Examining Singapore's approach, concerns and issues in education from different perspectives
by PHELAN LEE YEUK BUN Year_14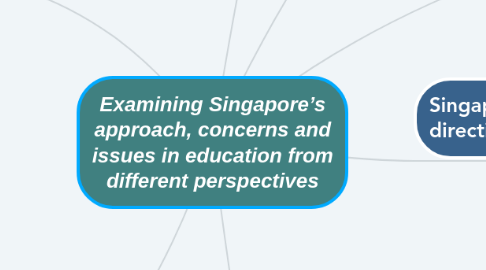 1. Opening Address by Mr Ong Ye Kung, Minister for Education, at the Work-Learn Carnival
1.1. Singapore is now trying to shift towards the focus on learning by doing
1.2. The cultivation of skills is the key to increase future youths' resilience towards technological disruption, making it crucial for educational institutes to move towards a work-study pathway, away from traditional lectures.
1.3. New work-study programmes are implemented to all schools.
2. Singapore is encouraging more small and medium-sized enterprises (SMEs) to take part in the training provided by SKillsFuture as they are investing less than larger multinational corporations (MNCs) in training but employ a greater proportion of our workforce.
3. Speech by Ms Indranee Rajah, Second Minister for Education at the ASEAN Schools Games Send-Off Ceremony, at Tanjong Katong Secondary
3.1. More holistic education, focus on sports
3.2. The education system that Singapore is heading to, aims to develop students to be more well rounded, to have the courage to push new boundaries, beyond their comfort zone.
3.3. Education in Singapore wish to develop students to venture to try new things and excel in different aspects of society.
4. Singapore's focus and direction is in education
4.1. Speech by Senior Minister of State for Education, Mr Chee Hong Tat, at the Launch of the Skillsfuture Festival, at University Cultural Centre Theatre
4.1.1. Singapore is progressing towards a society that focuses more on an individual's skillsets than their academic abilities.
4.1.2. Singapore is working on engaging "anchor companies" to work with SMEs in Singapore as SMEs do not have adequate resources and networks to conduct training as compared to MNCs.
5. Alternative Perspectives and how the Ministry has solved them
5.1. Outdoor education develops students in ways classrooms can't [by Tan Chen Kee (Mrs) Divisional Director; Student Development Curriculum Division; Ministry of Education]
5.1.1. Analysis: It is important to understand that education should not be solely focused on formative education and how the society should embrace other forms of education, which in this case refers to outdoor education. Different forms of education is able to cultivate certain unique skills which can be beneficial to different aspects, be it in life or in the workforce. Through the emphasis of teamwork, resilience and ability to overcome challenges, the MOE has devoted substantial amount of resources to ensure the facilities and teachers are well trained to effectively develop these skills in students.
5.2. IP, DSA - about maximising every child's potential
5.2.1. Analysis: It is crucial for Singaporeans to understand that students have different levels of academic ability in schools. This lead to the wide disparity between students, in terms of studying pace in schools. Instead of widening the inequality in students by separating students of higher academic ability to the IP stream, the MOE is trying to match the pace of learning to be suitable for each student, so that more efficient learning can occur. At the same time, initiatives like the DSA into schools, are also means of the government trying to bring out the potential in students, by providing an alternative pathway from the usual academic based examinations for the students. By placing emphasis on the growth of the students, the MOE aims to develop each student to unleash their maximum potential, for adequate child development.
6. Strengths of Education System in Singapore
6.1. Ability to adapt quickly and accurately towards the changing needs in the workplace today, yet, at the same time, providing heavily subsidised education for all students to improve themselves.
6.2. Singapore have broad networks and connections between schools and workplaces in order to provide local students and employees with knowledge and skills imparted from their foreign counterparts.
6.3. Singapore has a meritocratic streaming system.
7. Limitations of the Education system in Singapore
7.1. Streaming of the students bring about stress for the students, affecting children's social skills, health and overall happiness.
7.2. Decline in social skills amongst Singaporean students.