CHAPTER 2:PROCUREMENT PROCEDURES.
by Syazana Balqis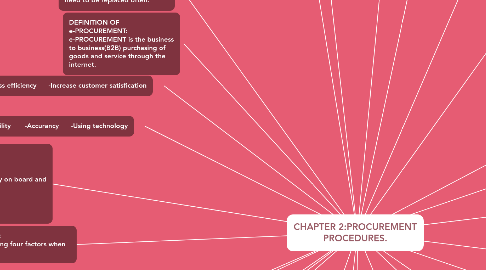 1. PROCUREMENT ORDER CYCLE STANDARD PROCEDURE :
2. 1)Identification of requisition material.
3. 2)Determination of possible supplier.
4. 3)Preparation of purchase order (PO).
5. 4)Following up and expedited delivery.
6. 5)Preparation of documents.
7. 6)Product storage
8. 7)Receiving and handling invoice
9. 8) Issuing payment.
10. Procurement for different types of items :
11. RAW MATERIALS: -The item is a raw and its not a finish goods. -Raw material is the basic material from which a good product is manufactured or made.
12. COMPONENT: -It is the materials or the parts that are waiting to be made into something else and its also known as semi finished goods or finished good.
12.1. WORK IN PROGRESS.-It is a materials and components that have begun their transformation to finish goods.
13. CONSUMABLES PRODUCT:- The consumables means goods that people purchase regularly because they are quickly use and need to be replaced often.
14. DEFINITION OF e-PROCUREMENT: e-PROCUREMENT is the business to business(B2B) purchasing of goods and service through the internet.
15. DRIVERS OF e-PROCREMENT:-Business efficiency -Increase customer satisfication
16. BENEFITS OF PRACTICING E-PROCUREMENT :-Costs saving -Time saving -Track ability -Accurancy -Using technology
17. CHALLENGES IN PROCUREMENT:-An innability to integrate with existing ERP and procurement system. -An innability on board and support a large number of suppliers. -Complex and unintuitive user interface
18. DEVELOPMENT OF E -PROCUREMENT: -Companies should consider the following four factors when developong their e-procurement
19. TYPES OF SPENDING (DIRECT AND INDIRECT)
20. CONRACT PURCHASE VS.SPOT PURCHASE.
21. VENDOR RECRUITMENT
22. ACCESS TO LARGER B2B FORUMS
23. ELECTRONIC AUCTIONS (e-auctions)
24. Features of an e-Procurement platform :- Research -Manage vendors -Approval routing -Request quotes and bids. -Make purchases -Check order status. -Handle receivables.
25. PURCHASER AND VENDOR PREPARATIONS
26. -Determine procurement strategy:The types of goods to be sourced,contract versus spot buys and vendor recruitment plan.
27. -Determine purchasing policies:Authorizations , approvals ,access rights and spending limit.
28. Determine financial settlement and logistics need-payment ,shipping and receiving