Analysing the Adoption of Lean Production in Remanufacturing Industry
by Giovanni Gaetani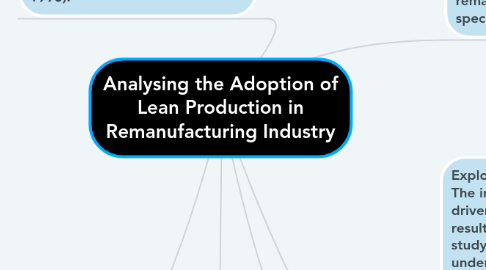 1. Exploring Lean Manufacturing The increasing popularity of lean has been driven by studies highlighting the dramatic results of lean implementation. An early study regarding the power of lean was undertaken by Womack, Jones, Roos and Carpenter (1990), which revealed that the efficiency of Japanese automotive manufacturers far exceeded that of their American and European counterparts, where Japanese factories required half the effort of American factories. This figure was even more dramatic when compared to Europe: Japanese manufacturers required only a quarter of the effort of the average European plant. One of the reasons given to explain this productivity gap was employee empowerment.
2. Remanufacturing is a process in which used products, referred to as "cores", are reprocessed into like-new products. During the remanufacturing process, cores undergo a series of processes including inspection, disassembly, testing, reassembly, and a final check to ensure that the final products meet the remanufactured product specifications (Ijomah, 2009)
3. Doubts Regarding the Universality of Lean Production It seems there is not any empirical evidence that production flow can run smoothly in remanufacturing companies. When production flow for creating value to customers cannot be evidenced in remanufacturing companies, the universality of lean can be questioned. The remanufacturing industry is unique; it is extremely difficult, if not impossible, to adopt a production flow system
4. Benchmarking for Lean Implementation Benchmarking has been viewed as a powerful tool for self-assessment and comparison. Self-assessment is a critical process in the use of benchmarking during lean production implementation, as it provides baseline indicators for current performance status (Gurumurthy & Kodali, 2009). It also allows companies to carry out a close comparison with best practice companies (Lewis, 2000), where the identification of relative weaknesses and strengths could be used to improve efficiency and productivity (Gurumurthy & Kodali, 2009)
5. Technology Support Lean manufacturing recommends the use of technology to support an efficient production system (Liker & Meier, 2006). Several technologies have been developed to support the remanufacturing process, such as embedded devices (Ilgin & Gupta, 2011), active disassembly (Chiodo & Ijomah, 2012; Ijomah & Chiodo, 2010), and sensor technology (Boks & Tempelman, 1998).
6. Giovanni Gaetani Electiva II CI: 27.684.835 Ing.Industrial