ADDIE MODEL
by Valentina Paronetto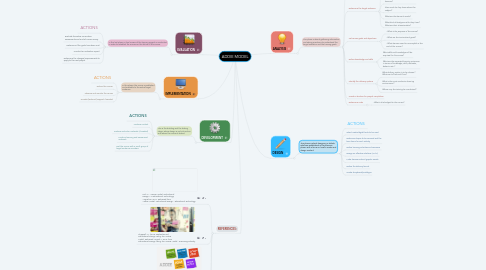 1. ANALYSIS
1.1. This phase is about gathering information and asking questions to understand the target audience and the training goals.
1.1.1. ACTIONS
1.1.2. Determine the target audience
1.1.2.1. Who is the target audience of the course?
1.1.2.2. Are they beginners or experienced learners?
1.1.2.3. How much do they know about the subject?
1.1.2.4. What are the learner's needs?
1.1.2.5. What kind of background do they have? What are their characteristics?
1.1.3. Set course goals and objectives
1.1.3.1. - What is the purpose of the course?
1.1.3.2. - What are the instructional goals?
1.1.3.3. - What learners need to accomplish at the end of the course?
1.1.4. Define knowledge and skills
1.1.4.1. What skills and knowledge will be required for this course?
1.1.4.2. What are the expected learning outcomes in terms of knowledge, skills, attitudes, behavior etc.?
1.1.5. Identify the delivery options
1.1.5.1. What delivery option is to be chosen? What are its Pros and Cons?
1.1.5.2. What is the most conducive learning environment?
1.1.5.3. Where may the training be conducted?
1.1.6. Create a timeline for project completion
1.1.7. Determine costs
1.1.7.1. - What is the budget for the course?
2. DESIGN
2.1. This phase is about designing in details what was established in the previous phase, with a focus on how to create and design content.
2.1.1. ACTIONS
2.1.2. Select media/digital tools to be used
2.1.3. Determine topics to be covered and the time frame for each activity
2.1.4. Define learning activities and exercises
2.1.5. Design an effective interface (UX/UI)
2.1.6. Make decisions about graphic assets
2.1.7. Define the delivery format
2.1.8. Create storyboard/prototype
3. EVALUATION
3.1. In this last phase, a final review of the training project is conducted in order to establish the success or the failure of the course.
3.1.1. ACTIONS
3.1.2. Evaluate formative, summative assessments and end-of-course survey
3.1.3. Determine if the goals have been met
3.1.4. Conduct an evaluation report
3.1.5. Determine the changes/improvements to apply to the next project
4. IMPLEMENTATION
4.1. In this phase, the course is published and available to the entire target audience.
4.1.1. ACTIONS
4.1.2. Deliver the course
4.1.3. Observe and monitor the course
4.1.4. Provide (technical) support if needed
5. DEVELOPMENT
5.1. This is the building and the testing stage, where design is put into action, and where the course is tested.
5.1.1. ACTIONS
5.1.2. Produce content
5.1.3. Produce instructor materials (if needed)
5.1.4. Produce learning and assessment materials
5.1.5. Test the course with a small group of target audience members
6. REFERENCES:
6.1. Kurt, S. "ADDIE Model: Instructional Design," in Educational Technology, August 29, 2017. Retrieved from ADDIE Model: Instructional Design - Educational Technology
6.2. Chappell, M. (2018, September 26). Instructional Design Using The ADDIE Model. Retrieved August 7, 2019, from Instructional Design Using The ADDIE Model - eLearning Industry
6.3. Quigley, E. (2018, March 29). ADDIE: 5 Steps To Effective Training. Retrieved August 7, 2019, from ADDIE: 5 Steps To Effective Training | LearnUpon
6.4. Vanderbilt University. Creating your Course Using the ADDIE Model. Retrieved from: https://www.mc.vanderbilt.edu/documents/The%20Learning%20Center/files/ADDIE_JOB%20AID.pdf