Title: The Foundations of connecting and maintaining an ethical and Professional Relationship across early childhood education and care
by Elizabeth Jane Sulja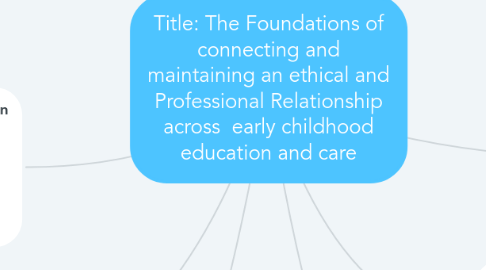 1. Introduction. What is a professional in regards to relationships in ECEC?
1.1. Answer: to be added to introduction paragraph: A professional is defined as being responsible and upholding an honest and reflective partnership with a wide variety of people, including : the children, families, collegues , communities and stake holders.
2. Introduction: Is one a professional in building relationships?
2.1. Answer: The ability to be a professional is to be able to be honest with oneself and the people being connected with. To learn critically, being aware of changes and mistakes that need to be fixed, abiding by regulations in regards to framework and Quality standards as well as the expectations of children, families , collegues and communities.
3. Introduction: What Actions are displayed in being a professional in relationships?
3.1. To show action towards being a professional, is to constantly learn and relearn how to best communicate and reflect in maintain a partnership that is respectful and inclusive.
4. Introduction: What evidence can be included in the body of the essay to support the introduction?(Introduce the issues in upholding and connecting an honest and professional relationship)
4.1. To support the introduction and the rest of the article one must look into: the lecture notes in topic 4, the peer reviewed readings in the set topics and the peer reviewed research displayed in the UNE library. Must also make reference to experiennce, the framework and the quality standards. Be honest and critically reflect about the issues that can occur and how these issues can be supported and or resolved.
5. Paragraph One Title: The importance of supporting the structure of a relationship in early childhood education and care
5.1. Reference: Chapman, S(2009). Whale of a time Rattler(Sydney) Looking at important points of relationship between young people, families and the community. The issuues that can be found and the actions in working through these issues. Second Reference: Mac, N. G., & Hughes, P. (2011). Parents and professionals in early childhood settings. Retrieved from https://ebookcentral-proquest-com.ezproxy.une.edu.au
5.1.1. This paragraph will include the importance of respecting children's choices, the people that should be involved in supporting their interest and the issues such as difference of opinions this can bring . Reference two will look further in the difficult and controversial issues that could emerge in these relationships.
6. Paragraph Two Title: The take action of adapting to positive outcomes rather than negitive thoughts in the relationship foundation.
6.1. This paragraph will include the negative approach an early childhood educator will look into rather than the positive approach that a relationship with families can bring. Negative approach includes: This family wont approve of this activity, this family thinks this activity is too dangerous. The second reference will further in depth of the learning outcomes and how this can be used to support a positive relationship.
6.1.1. Reference: Stonehouse, Anne. Collaborating with families : not a problem! [online]. Every Child; v.18 n.1 p.28-29; 2012. Availability: <https://search-informit-com-au.ezproxy.une.edu.au/fullText;dn=193536;res=AEIPT> ISSN: 1322-0659. [cited 10 Aug 19]. Reference two: Touhill, Luke Touhill, Luke. Educating young children: learning and teaching in the Early Childhood Years: v.18 n.3;2012.
7. Paragraph 3 Title: The strong upstanding structure of a professional relationship relies on a strong team of community and colleagues
7.1. Reference: Chapman, S. (2009). Whale of a Time Rattler(Sydney). Reference two:Rasmus Kleppe (2018) Characteristics of staff–child interaction in 1–3-year-olds' risky play in early childhood education and care, Early Child Development and Care, 188:10, 1487-1501, DOI: 10.1080/03004430.2016.1273909
7.1.1. This paragraph will include an explanation in Building a strong relationship with staff and community in supporting a high quality professional standards in early childhood education. The issues of difference in oppinons including risk taking and the importance of remembering to value and respect the children.
8. Paragraph 4: Conclusion. This is were all issues and evidence is summed up to include the opinion of supporting a strong and professional relationship across early childhood education and care
8.1. Sum up: Respecting Children's choices, Valuing positive thoughts in family relationship. Working respectfully with colleges and communities.