THE FIVE FORCES OF PORTER
by TATIANA SANCHEZ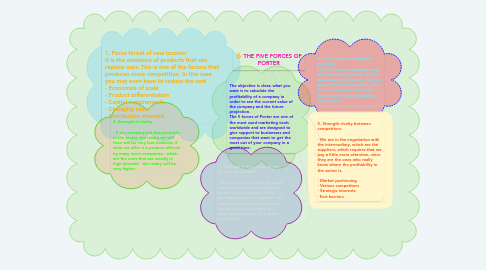 1. The objective is clear, what you want is to calculate the profitability of a company in order to see the current value of the company and the future projection. The 5 forces of Porter are one of the most used marketing tools worldwide and are designed to give support to businesses and companies that want to get the most out of your company in a good time.
2. 1. Force threat of new income: It is the existence of products that can replace ours. This is one of the factors that produces more competition. In this case you may even have to reduce the cost . - Economics of scale - Product differentiation - Capital requirements - Changing costs - Distribution channels
3. 2. Strength is rivalry. - If our company has few products in the sector, the rivalry we will have will be very low, however, if what we offer is a product offered by many more companies - which are the ones that are usually in high demand - the rivalry will be very higher.
4. 3. Strength is that of the threat of new competitors. - This is where we really measure ourselves with other companies to see if our product is really profitable or not. In addition, we can measure the attractiveness we have with customers by coming face to face with other companies.
5. 4. Force threat of substitute products - We are in the negotiation with the intermediary, which are the suppliers, which requires that we pay a little more attention, since they are the ones who really know where the profitability in the sector is.
6. 5. Strength rivalry between competitors. - We are in the negotiation with the intermediary, which are the suppliers, which requires that we pay a little more attention, since they are the ones who really know where the profitability in the sector is. - Market positioning - Various competitors - Strategic interests - Exit barriers