NO MORE MISTAKES
by GABRIELA RIVAS TORRES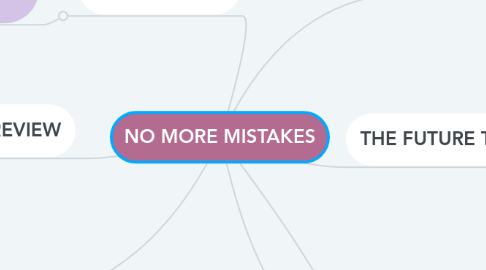 1. PREFIXES AND SUFIXES
1.1. A suffix is a group of letters placed after the root of a word.
1.2. A prefix is a group of letters placed before the root of a word
2. CONNECTORS
2.1. Are words used to join two ideas or sentences
2.1.1. To contrast information
2.1.2. To add information
2.1.3. To express purpose
3. SECOND CONDITIONAL
3.1. Is a structure used to talk about impossible or imaginary situations.
4. THE FUTURE TENSE
4.1. BE GOING TO
4.1.1. Used for future plans
4.2. WILL
4.2.1. Used for prediction
4.3. PRECENT CONTINUOUS
4.3.1. Use for to descrive fixed future arrangements
5. SIMPLE PAST REVIEW
5.1. Use to talk about thinks that happened or excisted before now
6. SIMPLE PASIVE VOISE
6.1. The active voice is used when the subject of the sentence does the action
7. PRECENT CONTINUOUS FUTURE
7.1. It is a plan that has been decided and organized with another person.