Soaring with Online Learning
by Robin Hoffman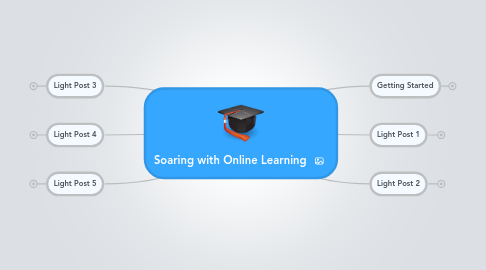 1. Getting Started
1.1. Introduction to the Course
1.1.1. Getting to Know You Discussion
1.2. Initial Face to Face Meeting
2. Light Post 1
2.1. This module focuses on the foundations of distance education and the framework of online learning at Salisbury University.
3. Light Post 2
3.1. This module will focus on the educator's role, faculty presence, building relationships, and some of the basics of coordinating online course elements.
4. Light Post 3
4.1. Using terminal course objectives as the guide, this module will apply an instructional design process to analyze and design how your course will be delivered with various instructional activities.
5. Light Post 4
5.1. This module will focus on the different types of activities surrounding an online course, from the time students register to after they have completed the course. Also, what types of support services are or should be available for both you and your students.
6. Light Post 5
6.1. This module will focus on Ongoing Course Feedback and Course Evaluation, the process of gathering information about the worth and quality of learning and instruction.