ROLE OF CULTURE IN LEARNING AND TEACHING ENGLISH
by CAROLINE JOHANA NARANJO DUCON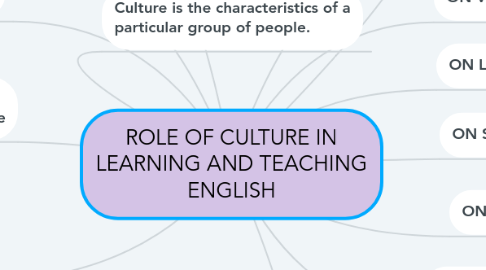 1. "A language is a part of a culture and a culture is a part of a language" (Brown 1994)
2. Culture are what make countries unique.
3. English is the most widely spoken language around the world.
4. People use English as a way to improve different aims.
5. It is necessary to teach culture along we teach English?
6. Culture is the characteristics of a particular group of people.
7. ON VOCABULARY
7.1. Basic ingredient of language
7.1.1. Vocabulary, and cultural factors.
8. ON LISTENING
8.1. Listening is related to the culture of the target language.
8.1.1. We need cultural background knowledge of the language.
9. ON SPEAKING
9.1. Use proper sentences in proper contexts.
9.1.1. What, when, where are you saying things
10. ON READING
10.1. Background information are necessary to avoid reading matters.
10.1.1. Understand the meaning of a word is not enough, we need context.
11. ON TRANSLATING
11.1. We should have enough knowledge about target and the source language.
11.1.1. Understand the culture when we are traslating.
12. To teach culture, students need to know about their own culture
12.1. Atmosphere of mutuality and respect
12.2. Culture differences- problems
12.3. Role plays
13. Materials for cultural awareness
13.1. Text books
13.2. Web pages
13.3. Literature
13.4. News paper
14. Students need to learn English related with the culture of it.