HYPEBEAST
by Santiago Santos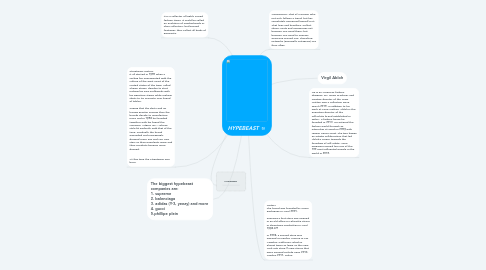 1. Appearance: That of a person who not only follows a trend, but has completely immersed himself in it. That lives and breathes. Collect shoes, coats and accessories not because you need them, but because you need to impress everyone around you. Therefore, networks (especially Instagram) are their allies.
2. It is a collector of highly priced fashion items. It could be called an evolution of sneakerheads or shoe collectors, but beyond footwear, they collect all kinds of garments.
3. Streetwear History It all started in 1980 when a surfing fan impregnated with the culture of the west coast of the United States of the time, called Shawn Stussy, decides to start making his own surfboards with his signature stamp while making shirts to try Promote your brand of tables. Seeing that the shirts end up having greater success than the boards decide to manufacture more and in 1984 he founded together with his friend the company "Stüssy Inc.", whose style fit perfectly with that of the time. Gradually the brand expanded and increasingly dressed more DJs and Hip Hop stars as their popularity grew and their products became more desired. At this time the Streetwear was born.
4. History The brand was founded by Kevin Rodríguez in April 2001. Supreme's first store was opened in an old office in Lafayette Streer in downtown Manhattan in April 1994.4 5 In 2004, a second store was opened on Fairfax Avenue in Los Angeles, California, which is almost twice as large as the New York City store.6 New stores that were opened include Paris 2016, London 2011, Tokyo
5. SUPREME
6. The biggest hypebeast companies are: 1. supreme 2. balenciaga 3. adidas (Y-3, yeezy) and more 4. gucci 5.phillipe plein
7. He is an American fashion designer, DJ, music producer and creative director of the Louis Vuitton men's collection since March 2018. In addition to his work at Louis Vuitton, Abloh is the executive director of the Off-White brand established in Milan , a fashion house he founded in 2013. He entered the fashion world through an internship at Fendi in 2009 with rapper Kanye West. The two began an artistic collaboration that led Abloh's career towards the founding of Off-White. Time magazine named him one of the 100 most influential people in the world in 2018.
8. Virgil Abloh