GET ON THE MOVE, MAKE IT A HABIT
by Nathalia Vargas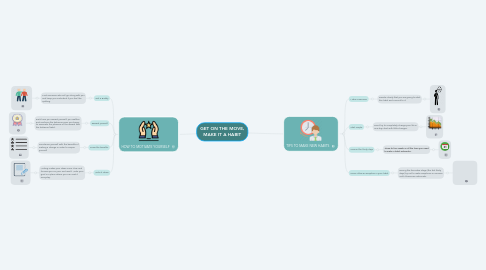 1. TIPS TO MAKE NEW HABITS
1.1. Make a Decision
1.1.1. Decide clearly that you are going to start this habit and commit to it.
1.1.1.1. c
1.2. Start simple
1.2.1. Don't try to completely change your life in one day, start with little changes.
1.2.1.1. n
1.3. Commit for thirty days
1.3.1. Three to four weeks is all the time you need to make a habit automatic.
1.3.1.1. _
1.4. Never allow an exeption in your habit
1.4.1. During the formative stage (the first thirty days) try not to make exeptions or excuses until it becomes automatic.
1.4.1.1. p
2. HOW TO MOTIVATE YOURSELF
2.1. Get a Buddy
2.1.1. Find someone who will go along with you and keep you motivated if you feel like quitting.
2.1.1.1. v
2.2. Reward yourself
2.2.1. Each time you reward yourself, you reaffirm and reinforce the behavior.Soon you begin to associate the pleasure of the reward with the behavior/habit.
2.2.1.1. c
2.3. Know the benefits
2.3.1. Familiarize yourself with the benefits of making a change in order to inspire yourself
2.3.1.1. b
2.4. Write it down
2.4.1. Writing makes your ideas more clear and focuses you on your end result. Write your goal in a place where you can read it everyday.
2.4.1.1. w