NWTI 2009
by
Tim Powell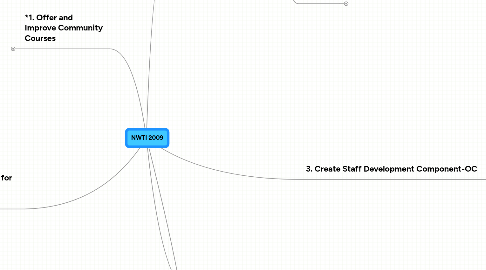 0.0
stars -
0
reviews range from
0
to
5
NWTI 2009
3. Create Staff Development Component-OC
*Professional dev plan template
Tim has samples
*Staff as trainer policies/procedures
"Train the trainer" curriculum
Outline core curriculum for all staff
Make Training Opportunities Calendar
I-Cal in Place
Draft Conflict of Interest Policy
Staff discount guidelines?
2. Re-Develop Infrastructure
Planning Tools
Budget and Finance, *Draft 2009 Budget, Aim for $1000 revenue/2x per week
*Draft a Strategic/Business Plan, Work with SCORE or ??
Technology
Review manual registration system
Create database and digital registration system, *Data system needs redesigned for short term & long term use
*Migrate data from old ACCESS database-25
Re-build NWYS file server
Project Mgmt Tool/Base Camp et al
Other
*Re-build hard file archive
Define Board and Advisory roles
*Office Needs
Buy Tim a bottle of wine
*Telecommunications
Staffing
Director JD and Hrs(done)
Organizational Chart(done)
*Support Staff-Registration
*Support Staff Fiscal/Admin
*Support Staff Marketing/IT
Renew Consulting Contract-John K.?
4. Establish Community Partnerships
Define Partnership Objecitves
Select 3-5 to Explore
*United Way
Sustainable Connections
What Council of Non-Profits
*Woodring/WWU
MOUs/MOAs
Write Co-Branding and Marketing Guidelines
Partnership Discounts
*1. Offer and Improve Community Courses
*Marketing Plan
Statement of Uniqueness, Custom trainings, Pre-training survey, Learning Style and Context, Quality Venues, Instructor selection guidelines, Follow up Process
Excellent Web Presence, Course Postings, Links to Instructors, Testimonials, Rich content, video, etc.
Marketing "reps" in the community
Style Sheet and System
Email/Social Network, Constant Contact "Operator", Survey Creation, List Building/Managing, Mass Emails, Targeted Emails
Marketing consultant
Write Standards for Trainers
"Map competition"
Revise contractor system
Conflict of Interest Policy
Establish accredidation process
Executive Education
*Women in Leadership-Aug 2009
Regular Half/Whole Day Courses
Draft course schedule for Fall 09
5. Convene Conferences/Special Events
*Need to plan at least 9mths in advance
Topic >Non-Profit Development
*Susan Howlett Series
Topic > Weatherization
Topic > Early Learning
Topic > Customer Service
6. Re-Develop Technical Tools for One-Time Contracts
Assessment Tool
Proposal
Contract
Service Delivery
Evaluation/Follow Up
*Current Conversations
Ray Soriano-Skagit Head Start-Burnout Prevention
Dr. Karen Johnson-Growing Together-Shift Happens + Team Builiding
Quinn Slaton-Skagit Americorp
Kristian Stewart-Campus Compact
Leadership Whatcom-Strengths Finder
VISTA-WA CNS
Strategic Planning/Bill Henkel/Andy Cline