NEURAL & SOCIAL NETWORKS NEURONS & NEURAL NETWORK
by Guila L. Punay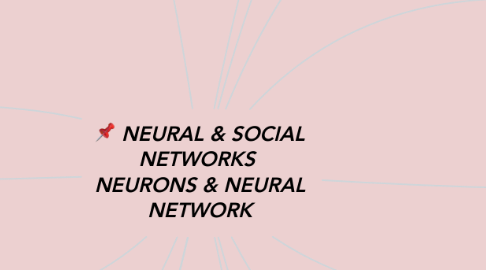 1. NATURE
1.1. Nature is viewed as the sum of genetic characteristics and the other biological factors that shape our personalities.
2. NURTURE
2.1. Is the sum of external factors that we encounter after conception.
3. INTELLIGENCE QUOTIENT
3.1. Categorizing people according to their mental abilities.
4. VIEWS ON THE HUMAN BRAIN
4.1. HARDWIRE
4.1.1. It has a permanently connected circular location
4.2. BRAIN PLASTICITY
4.2.1. It contains that the human brain is chemically predisposed to be modified by experince during the development period.
5. 9 MULTIPLE INTELLIGENCES
5.1. Verbal Linguistics Intelligence
5.2. Logical Mathematics Intelligence
5.3. Musical Intelligence
5.4. Spatial Intelligence
5.5. Existential Intelligence
5.6. Intrapersonal Intelligence
5.7. Interpersonal Intelligence
5.8. Bodily Kinesthetic Intelligence
5.9. Naturalistic Intelligence
6. NEUROSURGEON PAUL BROCA & NEUROLOGIST CARL WERNICKE
6.1. They discovered about the function of specific areas in the brain connected with speech development
7. BRAIN
7.1. Is composed of 80-100 billions of neurons or nerve cells
8. NEUROPLASTICITY
8.1. Has created avenues for developing a set of cognitive therapies and treatments for different issues surrounding the function and structure of the brain.
9. Donal O. Hebb
9.1. Canadian Scientist who discovered ANN and explains how the function of nervous contributed to psychologist and cognitive process such as learning.
10. ARTIFICIAL NEURAL NETWORK (ANN)
10.1. Is a model of reasoning based on the human brain
11. DR. ROBERT HETCH-NIELSEN
11.1. Tge inventor of one of the first neurocomputers, define as ANN in processing information to generate an output.
12. THE TRIUNE BRAIN
12.1. Is made of hindbrain, midbrain and cortex. This implies that neural networks operate in complex ways.
13. SOCIAL BRAIN
13.1. Responsible for Discharging Intelligence and emotions thus carrying out a primary role in our socialization.
14. NICHOLAS HUMPHREY
14.1. Suggest that primates are among the most cerebral because they are intensely social.
15. BOTHERS
15.1. Proposed that social brain composed of a set of regions the amygdala, orbit frontal cortex and temporal cortex, all dedicating to social cognition.
16. ADOLESCENCE
16.1. Is a critical period when social acceptance is fundamental to development.