WEB DESIGN PRINCIPLES
by Dessamae Abatayo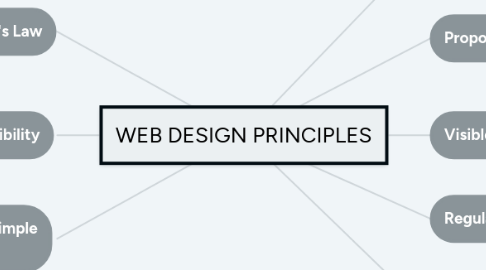 1. Visual Hierarchy
1.1. Your eyes perceives what is sees. It can be shown through the use of varrying size and amount of content.
2. Proportion
2.1. You can make a golden ratio, a magical number approximately equal to 1.618 that make all thing proportioned so as to make a design aesthetically pleasing.
3. Fitt's Law
3.1. According-the time needed to move to a target is dependent upon the size of the target as well as the distance to the target.
4. Accessibility
4.1. Typeface must be readable to all and is not to fancy for some to access or understand, make sure your images are of high quality amd are suitable for your purpose.
5. Visible Language
5.1. Page design should communicate with the users clearly and in an engaging manner.
6. White Space & Simple Design
6.1. It helps divide the web page into several distinct parts of areas that make it simpler for the user to process information.
7. Regular Testing
7.1. Website constantly need upgrades and updates to maintain the visitor customer's interests and trends.
8. Hick's Law
8.1. This law considered as a guidelines for decision make in a viewer perspective. "Hick's law state that." with every additional choice, the time required to make decision increases.