FIVE STARS PLAN UBER / SKIP
by michi dmbh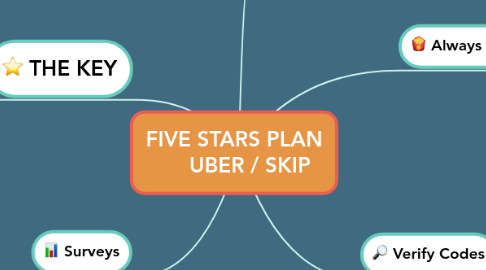 1. Keep on Eye
1.1. Always check both Ipad just in case the cashier didn't print an Order.
1.1.1. Problem Solved: Uber drivers can take their order fast.
2. THE KEY
2.1. In the Floor Plan for every shift delegate ONLY one person to work in the Orders. Before to close the bag will have to be approved by a Manager. Use condiments, napkins and straws.
2.1.1. Problem Solved: Food will be delivered always Right.
3. Always Fresh
3.1. Make sure fries for the Order are freshier. Add condiments, napkins, straws.
3.1.1. Solving Problem: Hot and fresh food delivered.
4. Verify Codes
4.1. When a driver comes for their Order Make sure we give them the right bag.
4.1.1. Problem Solved: We avoid confusion.
5. Surveys
5.1. A GEL or Managers will take time to call guests from past Orders and make surveys by phone with them.
5.1.1. Problem Solved: From 1 to 5 Stars on the App.