THE POLITICAL ECONOMY OF INTERNATIONAL TRADE By: Gabriela Correa
by Gabriela Correa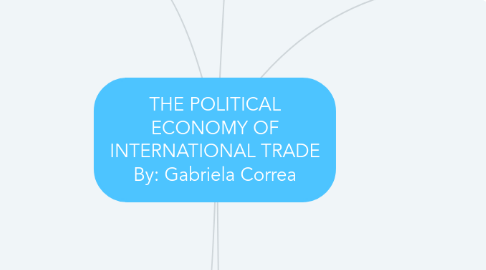 1. WHAT DO WE KNOW ABOUT TRADE AND TRADE POLICY?
1.1. - For most of the postwar period, less developed countries (LDCs) have used trade barriers extensively, many for the explicit purpose of import-substituting industrialization (ISI) But beginning in the 1980s especially, many developing countries began to liberalize trade and to adopt export-oriented policies -The transition from communist economies to market-based ones by many countries in the early 1990s further accelerated the trend toward global trade liberalization - All of these changes have resulted in one striking fact about the period since 1980: There has been a far-reaching liberalization of trade barriers across the globe
1.1.1. consequentially, the growth of world trade has surged. For most of the postwar period, the growth of trade has outpaced growth in world output. Also important are changes in the nature of global trade. There has been tremendous growth in intra-industry trade and in intrafirm trade.
1.1.1.1. intra-industry trade provides a powerful new source of multilateral interest in the liberal trade regime: diminished adjustment costs in some sectors, and higher net gains from trade as a result
2. TRADE POLICY PREFERENCES
2.1. Some of the earliest models explaining trade policy have focused on "pressure group politics." That is, they explain the recourse to protection by governments as a function of the demands made by domestic groups. Domestic groups seek protection or liberalization because such policies increase their incomes
2.1.1. Factoral theories rely on the Stopler-Samuelson theorem (1941), which shows that when factors of production, such as labor and capital, can move freely among sectors, a change from free trade to protection will raise the income of factors that are relatively scarce in a country and lower the income of relatively abundant factors.
2.1.1.1. scarce factors will support protection, whereas abundant ones will oppose it.
2.1.2. In contrast, sectoral and firm-based theories of trade preferences follow from the specific-factors model—in which, because at least one factor is immobile, all factors attached to import-competing sectors lose from trade liberalization while those in export-oriented sectors gain. Conflict over trade policy thus pits labor, capital, and landowners in sectors besieged by imports against those who export their production
2.2. Reductions in the costs of trade have thus heightened the opportunity costs of protection, creating new pressures for freer trade. Exactly why and how the proponents of trade liberalization have gained political advantage over those demanding protection is less clear.
2.2.1. various exogenous conditions created new actors who preferred freer trade, thus shifting the balance of power in their favor
2.2.2. theories of trade preferences seem to provide only poor explanations for the major change in trade policy that has occurred globally in the past decade.
2.3. the preferences of interest groups and voters are less important in determining trade policy than are those of the policy makers themselves. Trade policy depended much more on the personal preferences and ideas of politicians.
2.3.1. bad economic times allow policy makers more freedom to maneuver so that they can overturn existing protectionist policies by blaming them for the bad times
3. POLITICAL INSTITUTIONS
3.1. institutions aggregate preferences and different institutions do so differently, thus leading to distinct policies.
3.1.1. On the domestic side, different institutions empower different actors
3.1.2. Other institutions insulate policy makers from the demands, allowing them more leeway in setting policy
3.1.3. Other aspects of political regimes may make them more or less insulated from societal pressures.
3.2. The administrative capacity of the state is also seen as an important factor shaping trade policy. It is well established that developed countries tend to have fewer trade barriers than do lesser developed countries
3.3. As countries develop, their institutional capacity may also grow, reducing their need to depend on import taxes for revenue changes in political institutions may help explain changes in trade policy
3.4. The structure of the government and the nature of the party system have also been seen as important institutional factors shaping trade policy
3.4.1. • countries with highly polarized party systems, in which the main parties are separated by large ideological differences, may experience huge swings in policy and generally produce unsustainable trade reforms.
3.4.2. • countries with large numbers of parties may frequently experience coalition governments, which may be unable to change the status quo.
4. INTERNATIONAL POLITICS
4.1. A number of factors in the international system have been connected to countries' trade policy choices the distribution of capabilities in the international system has a fundamental effect on trade
4.2. In the trade area, a number of institutions provide support for an open, multilateral trading system; these include the GATT and its successor, the WTO, as well as the IMF and World Bank
4.2.1. regional trade institutions may have a more ambiguous effect on the multilateral system, some of them, including the European Union (EU), NAFTA, and ASEAN, seem to have positive effects on lowering trade barriers and reinforcing unilateral moves toward freer trade. the presence of these institutions should be associated with a freer trade environment; moreover, they imply that the depth and breadth of these institutions should be positively related to trade liberalization and the expansion of trade.
4.2.1.1. These international institutions may help to ensure that this liberalization process is not easily reversible.
5. EFFECT OF TRADE ON COUNTRIES AND THE INTERNATIONAL SYSTEM
5.1. trade liberalization can change domestic preferences about trade. As countries liberalize, the tradables sector of the economy should grow along with exposure to international economic pressures increasing exposure to trade leads to increasing pressure against protection, thus creating a virtuous cycle of rising demand for freer trade.
5.2. A second aspect of domestic politics that increased trade may affect involves the character of national political institutions Increasing exposure to international trade may thus create demands for more government intervention and a larger welfare state, which in turn are necessary to sustain public support for an open economy.
5.3. trade may constrain the policy choices available to decision makers: openness often makes governments cut spending on social programs and reduce taxes on capital. In order to maintain competitiveness, governments are prevented from using many of the fiscal policy measures they once could. Whether such constraints are good or bad depends on the value one places on government intervention in the economy
5.4. In terms of international politics, trade liberalization may also have important effects. As countries become more open to the international economy, it may affect their political relations with other countries.