The Use of Internet as a Tourism Support
by Juliet Salao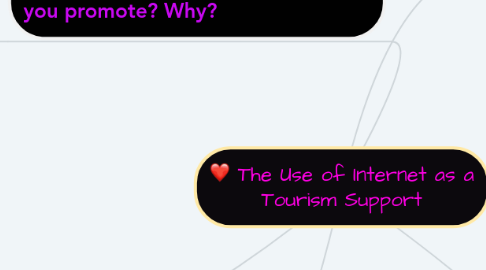 1. It also empowers the community to teach new platform s for effective promotion of Taal Volcano.
2. They figured out how to do blogging, photography, videography and so forth.
3. If you could apply the Aloguinsan digital experience to your community, what local tourist spots, culture, or practices would you promote? Why?
3.1. Boracay is one of the locality wherein the view White Beach and Mount Luho.
3.1.1. unique features
3.1.1.1. Its Stunning White Beach
3.1.1.1.1. 8 more beautiful beaches
3.1.1.2. Mouthwatering Fresh Seafood
3.1.1.2.1. World-Class Sunsets
3.1.1.3. Learn Wind or Kitesurfing
3.1.1.3.1. Accommodation for Every Budget
3.1.2. good experience
3.1.2.1. "Boracay is the kind of island you will never want to leave. I've traveled to more than 50 countries and there are not many places whee I've returned 5 times. Boracay is one for them". -Sabrina Iovino.
3.1.2.2. You may also go down to the crater to swim if the water is stable and there are also huts there where you can rest and take pictures of the crater.
3.1.3. Discovering things about boracay can promote new knowledge on blogging and social media marketing.
3.1.4. Boracay is a tiny tropical island where people from all over the world come to enjoy beach life,water sport activities, and a vibrant nightlife.
3.1.5. It can also be a way to improve local community through better tourism.
4. How did it improve the lives of the local community?
4.1. They turned out to be increasingly mindful and they are having a beneficial outcome on nature.
5. How did the Internet help in promoting tourism in Aloguinsan, Cebu?
5.1. These ideas can be useful as they build up an advertising strategy.
5.2. They will likewise be educated on the best way to publicize their items and spot to pull in more visitor.
5.3. The occupants additionally found out about movement patterns, marking and bundling, blogging, photography, videography, web based life showcasing and examination, on the web and computerized promoting apparatuses, and capable utilization of the Internet.
5.4. The gathering presents Internet.org, a Facebook-drove activity which intends to make versatile Internet providers accessible to 66% of the world who are not yet associated
5.5. They can scan for various data in regards to weather,sports and free access to facebook.
5.6. They will currently have a capacity to convey for more remote spots, advance their place and scan data essential for improving their zone.