Why Integrate Technology?
by Delaney Smith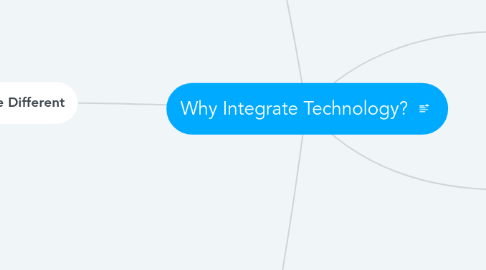 1. The World is Different
1.1. Technology is Everywhere
1.2. Teachers Need a Good Level of Technology
1.3. Education is Globalized
2. Students are Different
2.1. Grown up with Technology
2.2. Multimedia Oriented
2.3. Technology is a must for Future Careers
3. Teaching Should be Different
3.1. Teachers Should be up to date on Technology to Help Students
3.2. Teachers should be lifelong learners
3.3. Teachers Must Use Technology Effectively
4. Standards are Different
4.1. Level of Technology Competency expected
4.2. Teachers Should be Educated About the Standards for Technology
4.3. ISTE Standards (Technology Standards)
4.3.1. Copyright and Fair Use
4.3.1.1. Educator
4.3.1.1.1. 3. Citizen (C): Mentor Students on safe use
4.3.1.1.2. 3. Citizen (D): Monitor and promote management of personal data
4.3.1.2. Students
4.3.1.2.1. 2. Citizen (C): Demonstrate an understanding of and respect for the rights...
4.3.1.2.2. 3. Knowledge Constructor (C): Curate information from digital resources
4.3.2. Cyberbullying
4.3.2.1. Educator
4.3.2.1.1. 3a. Citizen: Create experiences
4.3.2.2. Student
4.3.2.2.1. 2a. Citizen: Cultivate and manage digital identity
4.3.3. Safe Use of the Internet
4.3.3.1. Educator
4.3.3.1.1. 3c. Citizen: Mentor Students...
4.3.3.2. Student
4.3.3.2.1. 2b. Citizen: Engage in positive, safe, legal, behavior
4.3.4. Google Collaborative Project
4.3.4.1. Educator
4.3.4.1.1. 4b. Collaborate and co-learn with students
4.3.4.2. Student
4.3.4.2.1. 7c. Contribute constructively to project teams
4.3.5. UDL Project: All Types of Learners
4.3.5.1. Educator
4.3.5.1.1. 7a. Provide alternative ways for students to demonstrate competency
4.3.5.2. Student
4.3.5.2.1. 3c. Curate information from digital resources using a variety of digital tools
4.3.6. Nonlinear Multimediavefcd
4.3.6.1. Educator
4.3.6.1.1. 4c. Use collaborative tools to expand students' authentic, real world learning experiences
4.3.6.2. Student
4.3.6.2.1. 6a. Choose the appropriate platforms and tools for meeting the desired objectives of their creation or communication
4.3.7. UDL Project: Metaverse Augmented Reality Project
4.3.7.1. Educator
4.3.7.1.1. 6b. Manage the use of technology and student learning strategies in digital platforms, virtual environments, hands-on markerspaces or in the field
4.3.7.2. Student
4.3.7.2.1. 1a. Articulate and set personal learning goals, develop strategies levering technology to achieve them and reflect on the learning process itself to improve learning outcomes
4.4. Ohio Subject Standards
4.5. Ohio Technology Standards
5. Skills are Different
5.1. More Technology Savvy than the Past
5.2. Should adapt curriculumn to new skill set
5.3. Will help adapt to skills in 21st century
5.4. 21st Century Skills
5.4.1. Creativity and Innovation
5.4.2. Communication and Collaboration
5.4.3. Research and Information Literacy
5.4.4. Critical Thinking
5.4.5. Nonlinear Thinking
5.4.6. Visual Literacy
5.4.7. Visual Thinking
5.4.8. Spatial Thinking
5.4.9. Digital Age Reflection