Employability skills
by Ayden Jefferson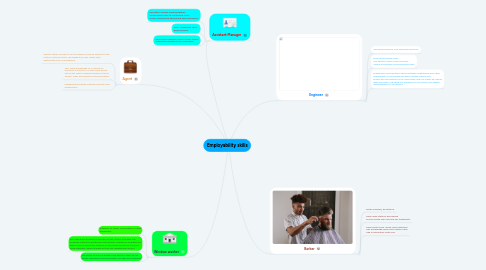 1. Assistant Manager
1.1. Assistant Manager Responsibilities: Optimizing profits by controlling costs. Hiring, training and developing new employees.
1.2. skills: Leadership Skills. Responsibility.
1.3. Resolving customer issues to their overall satisfaction.Respect your employees.
2. Engineer
2.1. narrowing research, and analyzing solutions,
2.2. Effective technical skills. The ability to work under pressure. Verbal and written communication skills.
2.3. Establishes and maintains liaison between engineering and other departments to formulate and apply design criteria and production.We inspire trust in each other and our clients by saying what we mean, matching our behaviors to our words, and taking responsibility for our actions.
3. Agent
3.1. Agent's duties include: to act on behalf of and be subject to the control of the principal, discharge his or her duties with appropriate care and diligence.
3.2. Skill: Deep knowledge of a company's products or services. To field doze phone calls a day means fielding dozens of topics as well. Clear and effective communication.
3.3. Engaging personality.Interest in houses and architecture
4. Barber
4.1. Detail-oriented, and Ethical.
4.2. Clean work stations and sweep floors.Provide skin care and nail treatments
4.3. They Possess and Utilize Their Extensive Hair Knowledge.They Have Always Have Had a Fascination With Hair.
5. Window washer
5.1. attention to safety, knowledge of lifting equipment.
5.2. The dirty glass windows of homes, offices, stores, and high-rise buildings clean and glistening.is the exterior cleaning of architectural glass used for structural, lighting, or decorative purposes. It can be done manually, using a variety of tools for cleaning and access.
5.3. the ability to work at heights. the ability to learn to use power-operated lifting equipment for high level cleaning.