Comparing Qualities in These Businesses: Olivia Harris
by Olivia Harris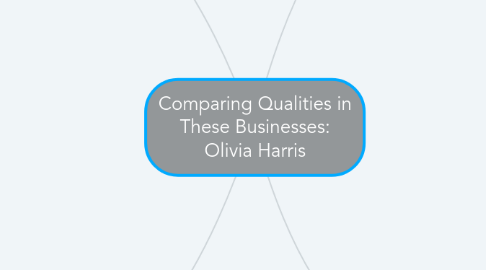 1. National Business: Cafe Rio
1.1. Revenues & Expenses
1.1.1. The company's annual revenue in 2018 was about 62.1M.
1.2. How is the social environment affecting business?
1.2.1. With many reviews from Indeed.com, many employees have complained about terrible management within the business. This would affect the social environment because they aren't hiring good enough employees to handle management positions.
1.2.2. They are very inclusive with hiring and often find themselves in trouble with hiring too many young adults who aren't reliable.
1.3. Business Challenges
1.3.1. Their main competitor is Costa Vida - a fast food mexican chain that serves about the same products. They are constantly trying to keep up with deals, new products, and marketing stratigies.
1.3.2. In a world run by the internet, they are encouraging customers to order on-line or within their app. This encourages coupons and deals for those who use it. Many consumers are very interested in the app but the company is finding it challenging to keep up with online orders and the foot traffic that comes into the stores.
1.3.3. Customer complaints about wait time for their food has gone up over the years. The business makes the food right in front of the consumer and it makes it difficult when the product ingredients are not ready. Consumers get tired of long waits.
2. Local Business: Pace's Dairy Ann
2.1. Revenues & Expenses
2.1.1. Since this is a one-of-a-kind business, I couldn't find any expense reports or income statements.
2.2. How is the social environment affecting business?
2.2.1. This business tries to be inclusive with their employees but stick to certain standards when hiring. They are open to all customers as well.
2.2.2. The social environment in Utah is heavily predicated on religion. They stick to these religious standards by closing on Sundays, not staying open too late, etc..
2.3. Business Challenges
2.3.1. This one of a kind diner has no trouble getting customers in to enjoy a burger and a shake. Their foot traffic has decreased by a small percentage but is no where near the possibility of closing the business.
2.3.2. A business as old and original as this one is constantly trying to improve their product and expand their menus. This diner has been marketing new products or deals on their current products to encourage more foot traffic in the diner.
2.3.3. This diner is always trying to find people to hire. They are struggling with only offering a wage that is appealing to high school students who aren't very reliable. They need to find a solution to have employees come into work while not losing money by offering a higher wage.
3. Regional Business: Vivint Smart Home Security
3.1. Revenues & Expenses
3.1.1. Total revenues increased 17.3% year over year to $276.5 million
3.1.2. Net loss of $118.6 million
3.2. Business Challenges
3.2.1. This businesses profit is solely dependent upon sales. They hire hundreds of salesmen every summer to go door-to-door to sell home security. This can be a challenge because product may sell great one year but the other it may not.
3.2.2. To support the businesses massive growth, Vivint recognized it needed technology that could support its future business requirements. This can be a challenge because it would cost a lot of money to acquire better technology for the company.
3.2.3. Increased cost for consumer due to advancements within the company, more employees, and more technology needing to be installed in the home for security.
3.3. How is the social environment affecting business?
3.3.1. Stationed in Provo, UT, the social environment of college students wanting to make money and afford school, is affecting business with hiring more employees than needed. They are always scouting for new employees and luckily, in the area, there are thousands of "ready to sell" attitudes.
3.3.2. With home security becoming more of a necessity than a want, this company is booming with sales. More home owners want the comfort of knowing that they are safe and secure in their home - even if that means spending hundreds of dollars for it.
4. Multinational Business: McDonalds
4.1. Revenues & Expenses
4.1.1. McDonald's revenue for the past fiscal year, ending June 30th, 2019, $20.829B, a 3.51% decline year-over-year.
4.1.2. McDonald's gross profit for the fiscal year, ending June 30, 2019, was $10.885B, a 1.25% increase year-over-year.
4.1.3. McDonald's total liabilities for the quarter ending June 30, 2019 were $53.009B, a 37.47% increase year-over-year.
4.1.4. McDonald's long term debt for the quarter ending June 30, 2019 was $44.550B, a 45.17% increase year-over-year.
4.2. Business Challenges
4.2.1. The famous fast food restaurant lost about 2.2% of customer traffic last year. Some analysts believe this is due to the value menu options that were brought up in place of their bundle options on the menu.
4.2.2. They are spending millions of dollars to remodel and "modernize" all of their restaurants to encourage more curb appeal to their customers.
4.2.3. Employees have been criticizing the fast food chain for months over workplace issues such as sexual harassment and violence. McDonald's responded by starting a new training program for employees to help diminish the issues.
4.3. How is the social environment affecting business?
4.3.1. One threat to the business would be the ongoing trend of healthier/fresher restaurants opening up. Many consumers are looking at ways to be healthier which can drastically affect the business of this chain.
4.3.2. There will always be increasing cultural diversity within the consumers and the businesses employees. This can be an opportunity for the business to grow and become more inclusive.