Crypto Domain Form - Domain Ipartner form integration Custom
by First Last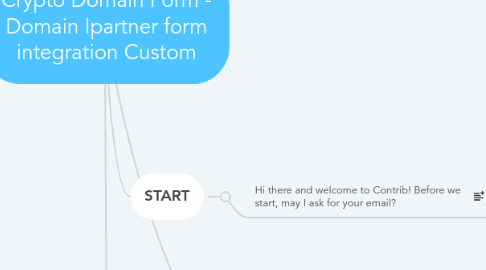 1. email address
2. START
2.1. Hi there and welcome to Contrib! Before we start, may I ask for your email?
2.1.1. May I know your first name? My name is Maida and I'm part of the team that built Contrib.
2.1.1.1. Thanks $firstname, how about your last name?
2.1.1.1.1. Nice to meet you $firstname and $lastname! Our development team is in the beautiful city of Davao, Philippines. I'm pretty sure we're a long way from you.
2.1.2. Can you tell me what company you're connected to?
2.1.2.1. We're in the business of investing and contributing to startups and undervalued assets. Perhaps we could talk about a joint venture or partnership?
2.1.2.1.1. Do you have an undervalued domain? If yes, then what is it?
3. first name last name email address city contact number phone number company domain parking company What do you want to do with your domain What is the current value of your domain Type of Monetization What resources/connections can you bring to the venture Expectations and goals of partnering with contrib.
4. After submission
4.1. Send follow up email
4.2. Your domain - is in review.
4.3. In the meantime, we have 140 premium urls in the blockchain which we need your help with. Own digital fractions of our premium assets by purchasing CTB tokens to buy into these top URLS.
4.4. Or you can search our directory of 20,000 urls ready for partnerships.