Keauna Whitright: Let's Bring Them Home
by Keauna Whitright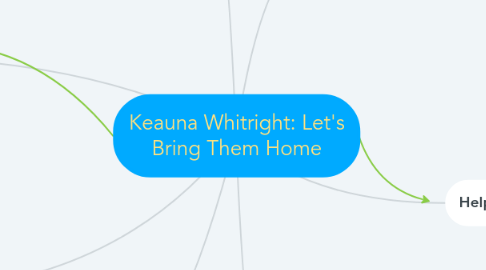 1. Help find missing children/ young adults
1.1. MAIN PURPOSE OF WEBSITE
1.1.1. Video of people trying to take children
2. What You Can Do To Help
2.1. Remember their face
2.1.1. Share their photo and what they can look like now
2.2. Share their story
2.2.1. share their videos, links to their private searches and how you can share it to personal social medias.
2.3. Never Stop saying their name
2.3.1. Proof that if you stop talking about it, you forget about it. Share picture of maybe cartoons tha tshow people forgetting.
2.4. Continue to listen for updates
2.4.1. Links, videos, photos, and how to probsbly search for updates
2.5. Signs of danger
2.5.1. links, photos, videos.
3. About Me
3.1. Who I am
3.1.1. My picture, a introduction of who I with a background
3.2. My degree
3.2.1. Speak about how I go to ASU and study elementary education
3.3. Why I am passionate about this topic
3.3.1. Speak about why I think this is such an important topic and why it relates back to my major.
4. Contact Page
4.1. My contact
4.1.1. My social media links, phone number, area where people can put information or questions
5. Reasons to why these people go missing
5.1. What human trafficking is
5.1.1. Have a photo of Johnny Gosch and with bullet points of who he is and his story
5.2. Serial Killers
5.2.1. Adam Walsh, have photo of him, who is father is and the bullet point details of him and what serial killers look for.
5.3. Divorce
5.3.1. Photo of Kyron Horman, his story, his family background. Photo of Mom, Step Mom, Dad, Step Dad. Another part of how divorce and split families lead to kidnapping children. Photo of Amaruliz Zaragoza Montano. Her story
5.4. Mental Health
5.4.1. Photo of Timmothy Pitzen, his story. Signs of Mental Health issues. Natalie Holloway, her story, the men who took her.
5.5. Paedophiles
5.5.1. Photo of Madline McCann, her story. Photo of Asha Degree, her story. Shaniah Boyd, her story. Etan Patz, his story. Video of what pedophiles are amd how they can take your child.
6. Resources to know how people go missing and how to protect yourself
6.1. Police need help
6.1.1. Your tips are NEEDED
6.2. Man Hunts
6.2.1. There are only so many police officers, put link down on being a volunteer
6.3. Websites
6.3.1. Give links and names to other organizations for missing children
6.4. Self Defense
6.4.1. Links, videos, and advice for how to keep yourself safe.
7. Reference page
7.1. Page full of where all my information came from. Links to show