Scotch Tape
by
Wonjune Kang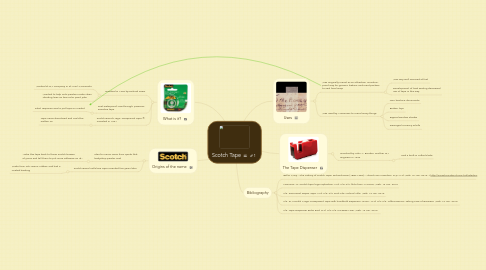 0.0
stars -
0
reviews range from
0
to
5
What is it?
Invented in 1930 by Richard Drew
First waterproof, see-through, pressure- sensitive tape
Scotch Brand Magic Transparent Tape ® invented in 1961
Uses
Was originally meant as an attractive, moisture- proof way for grocers, bakers, and meat packers to seal food wrap
Was used by Americans to mend many things
The Tape Dispenser
Invented by John A. Borden, another 3M engineer in 1932
Origins of the name
Idea for name came from quote that bodyshop painter said
Scotch Brand Cellulose Tape invented five years later
Bibliography
Bellis, Mary. "The History of Scotch Tape: Richard Drew (1886-1982)." About.com Inventors. N.p., n.d. Web. 16 Jan. 2012. <http://inventors.about.com/od/sstartinv
Hamman, JT. Scotch tape logo replication. N.d. n/a, n/a. flickr from YAHOO!. Web. 16 Jan. 2012.
n/a. Document Repair Tape. N.d. n/a, n/a. Print File Archival Title. Web. 16 Jan. 2012.
n/a. 3M Scotch Magic Transparent Tape with handheld Dispenser 104NA. N.d. n/a, n/a. Office DEPOT. Taking Care of Business. Web. 16 Jan. 2012.
n/a. Tape Dispenser Retro Red. N.d. n/a, n/a. KIKKERLAND. Web. 16 Jan. 2012.