EARTHQUAKE
by barbie jongko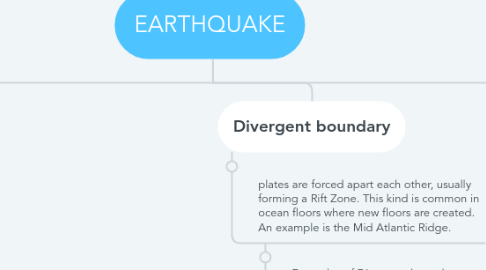 1. Transform fault
1.1. Unlike divergent and convergent, the plates here slip by each other. This is also called Strike-Slip.
1.1.1. Types of Transform fault
1.1.1.1. Fracture zone – A junction between oceanic crustal regions of different ages on the same plate left by a transform fault
1.1.1.1.1. Leaky transform fault – A transform fault with volcanic activity along a significant portion of its length producing new crust.
2. Divergent boundary
2.1. plates are forced apart each other, usually forming a Rift Zone. This kind is common in ocean floors where new floors are created. An example is the Mid Atlantic Ridge.
2.1.1. Examples of Divergent boundary
2.1.1.1. Mid-Atlantic Ridge Red Sea Rift Baikal Rift Zone East African Rift East Pacific Rise Gakkel Ridge Galapagos Rise Explorer Ridge Juan de Fuca Ridge Pacific-Antarctic Ridge West Antarctic Rift Great Rift Valley
3. Convergent boundary
3.1. one plate is forced over another plate during movement creating a thrust fault.
3.1.1. Three Types of Convergent Boundaries
3.1.1.1. Oceanic/Oceanic Convergent Boundaries Where different oceanic plates run into each other, the older – and therefore cooler and denser – one dives beneath the other; in other words, it subducts.
3.1.1.1.1. Oceanic/Continental Convergent Boundaries Where oceanic and continental plates collide, the former subducts beneath the latter because ocean crust – rich in iron and magnesium – is denser than continental rock.