SECTIONAL TENSIONS
by Taylor Dummar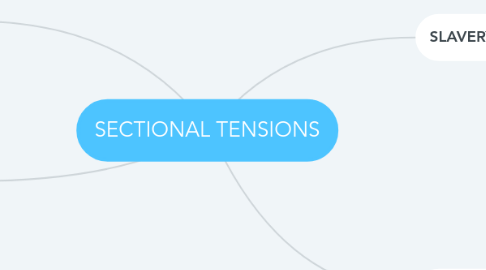 1. SLAVERY
1.1. The compromise of 1850
1.1.1. The fugitive slave act
1.1.1.1. even though the Fugitive Slave Clause in the U.S. Constitution was anti-slavery, slavery remained in the northern states in 1780's and 1790's.
1.1.2. laws admitting California as a free state
1.1.3. creating Utah and New Mexico territories
1.1.4. ending slave trade in Washington DC
1.1.5. President Zachary Taylor opposed the compromise
1.1.6. split the omnibus proposal into individual bills so that congressmen could abstain or vote on each
2. MEXICAN AMERICAN WAR
2.1. Territories
2.1.1. New Mexico
2.1.2. Utah
2.1.3. Nevada
2.1.4. Arizona
2.1.5. Colorado
2.1.6. Texas
3. Westward Expansion
3.1. Began with Louisiana Purchase
3.2. sparked by the Gold Rush
3.3. Sparked by the Oregon trail
3.4. Supported because of Manifest Destiny
4. Wilmot Proviso
4.1. proposal to forbid or abolish slavery in the territory gained by the United States after the Mexican American war.
4.2. Created to eliminate slavery
4.3. against additions of pro slavery sates.