Recursos Educativos Abiertos
by Valentina Guevara Rojas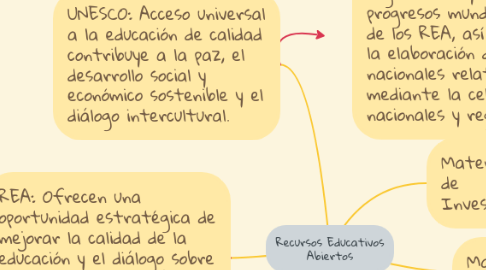 1. Materiales Didácticos
2. Materiales de Aprendizaje
3. Materiales de Investigación
4. Dominio público o que se publican con licencias de propiedad intelectual que facilitan su uso, adaptación y distribución gratuitos.
5. UNESCO: Acceso universal a la educación de calidad contribuye a la paz, el desarrollo social y económico sostenible y el diálogo intercultural.
6. REA: Ofrecen una oportunidad estratégica de mejorar la calidad de la educación y el diálogo sobre políticas, el intercambio de conocimientos y el aumento de capacidades.
7. Fundación Hewlett: Se centra en el seguimiento y análisis de los progresos mundiales en la adopción de los REA, así como en el apoyo a la elaboración de políticas nacionales relativas a los REA, mediante la celebración de talleres nacionales y regionales.
8. Guidelines on the Development of OER Polices: Explica paso a paso cómo formular una política sobre los REA en el plano nacional e institucional.