INTRODUCTION TO ECONOMICS
by Nisaaa Ashari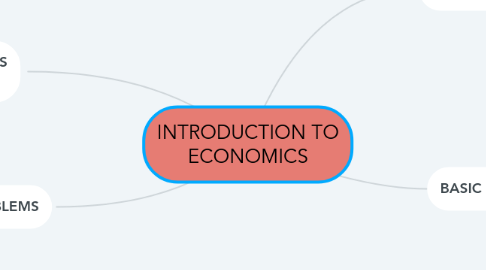 1. DEFINITION
1.1. A social science which is concerned with the efficient allocation of scarce resources to achieve the maximum satisfaction of human unlimited wants.
2. BASIC ECONOMICS CONCEPTS
2.1. Scarcity - exists due to the situation where unlimited desire cannot be fulfilled by limited resources.
2.2. choice - choice arises because of scarcity and society will make the best choice possible to maximize satisfaction
2.3. Opportunity cost - known as the second best alternative forgone and it arises after society has made the best choice
3. PRODUCTION POSSIBILITIES CURVE
3.1. PPC is used to explain problems of scarcity, choice and oppurtunity cost faced by nation
4. BASIC ECONOMIC PROBLEMS
4.1. 1) What to produce and how much ? 2) How to produce ? 3) For whom to produce ?
4.2. Basic economic problem arise due to man's unlimited wants and limited factors of production