CHƯƠNG 1: GIỚI THIỆU VỀ MICROECONOMICS
by Hiền Bùi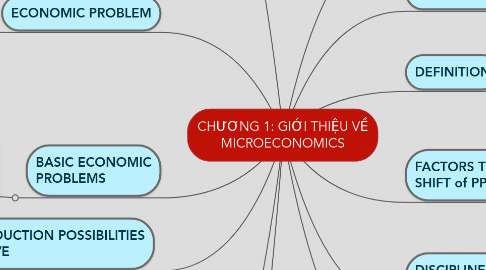 1. DEFINITION
1.1. A study of how people make use of scarce resources to fulfill their unlimited wants.
2. DISCIPLINE of ECONOMIC THEORY
2.1. The study of how individual and societies use limited resources to satisfy unlimited wants
3. MICROECONOMIC
3.1. The study of economic behaviour of individual making units such as : Household, Producer, Consumer, Firm
4. MACROECONOMICS
4.1. The study of economic system as a whole / on the basis of aggregate such as:- Consumer Price Index, Inflation Rate, National Income, Unemployment level
5. BASIC ECONOMIC CONCEPT
6. BASIC ECONOMIC PROBLEMS
6.1. -What to Produce -How to Produce -For whom to Produce
7. ECONOMIC RESOURCES
7.1. Land : Inputs into production that are provided by nature such as raw materials from the surface of earth, mineral, forest, oil deposits The reward : Rent
7.2. Labor : All forms of human input both physical and mental into current production. For e.g.: doctors, lecturer The reward : Wage / Salary
7.3. Capital: All inputs into production that have themselves been produced such as machines, factories, equipments The reward : Interest
7.4. Entrepreneur: The person who has the capability to combine all resources into the production of goods & services The reward : Profit
8. ECONOMIC GOODS
8.1. Consist of tangible items & services that are used to fulfill the wants & society.
8.1.1. Goods can be divided into 3 categories:- Economic goods, Free goods, Public goods
8.1.1.1. Economic Goods – are scarce goods which the quantity demanded exceeds the quantity supplied at a zero price and whose usage involves prices and opportunity costs. Economic goods can be divided into two;
8.1.1.1.1. Consumer goods – or final goods are goods that yield satisfaction to the consumer. These items can be classified into durable goods such as electrical fans and radios, or perishable goods such as food
8.1.1.1.2. Capital goods – are not intended for final use, but are used to produce other goods. For e.g. machinery, factories
8.1.1.2. Free Goods - or non-scarce goods are naturally occurring goods that are unlimited and available without any cost.
8.1.1.3. Public goods – are non-excludable and are not subject to decision made by individuals.
9. FUNDAMENTAL ECONOMIC PROBLEMS
9.1. Problems of scarcity – occur when goods and services are limited to compare to man's unlimited wants and desires.
9.1.1. Individuals : time, money
9.1.2. Firms : capital
9.1.3. Governments : financial resources
9.2. Problems of choice – arise when we are faced with problems of scarcity
9.2.1. Consumers : maximize satisfaction
9.2.2. Firms : maximize profits
9.2.3. Governments : based on priorities to fulfill the wants of society
9.3. Problems of opportunity cost – second best option that will have to be forgone in order to select the best option.
9.3.1. Arises from limited factors of production.
9.3.1.1. Individuals
9.3.1.2. Government
9.3.1.3. Firms
10. PRODUCTION POSSIBILITIES CURVE
10.1. PPC is used to explain problems of scarcity, choice, and opportunity cost faced by a nation.
11. FACTORS THAT INFLUENCE THE SHIFT of PPC
11.1. The discovery of new technology
11.2. The increase in factors of productions
11.3. Economic of growth
12. ECONOMIC PROBLEM
12.1. Basic economic problems arise due to man's unlimited wants and limited factors of production
12.2. Man's unlimited wants have resulted in four basic economic problems.
12.2.1. How should goods to be produced?
12.2.2. For whom should goods be produced and distributed?
12.2.3. How much goods and services should be produced?
12.2.4. What goods and services should be produced?