PART I: 7 KEY WORDS
by MeLzz Jaynee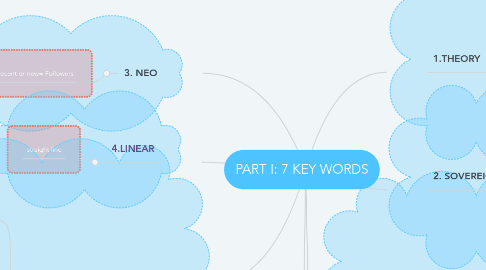 1. 1.THEORY
1.1. Set of statements or principles devised to explain a group of facts and phenomena especially one that has been repeatedly tested.
1.2. widely accepted and can be used to make predictions about natural phenomena
2. 2. SOVEREIGNTY
2.1. latin term=superatu= supreme
2.2. ultimate political authority= no higher power with regard to decision-making process and policy enforcement.
3. 3. NEO
3.1. recent or new= Followers
4. 4.LINEAR
4.1. straight line
5. 5. REGIONAL INTEGRATION
5.1. integration= join parts into whole/process of combining or accumulating.
5.2. political integration,the centralization of power within a polity, state&government = action that tries to join a separate part to create a new entity.
5.3. unification of smaller and separated nation-states to become bigger and stronger entity= covers political,eco,socio-cultural.e.g imposition
6. 6.ECONOMICAL INTEGRATION
6.1. different aspects between eco are integrated. eco integration increases the barriers of trade between markets diminish
6.2. 1 of major objectives= bigger markets,resources pooling and sharing or for other strategic reason
6.3. Definition
6.3.1. 1) Deniau= geographical area = certain unity in the condition of trade
6.3.2. 2)Bela Balassa(1960, Hungarian Economist)- process=various measures-suppression of discrimination between eco units of national states and resulting forms= absence of discrimination in various areas
6.3.3. voluntary integration-surrender parts of national interest- economic cooperation- unification-economic integration -single market - common currency- economic union.
7. 7. PARTIAL INTEGRATION (PHASES TOWARDS FULL INTEGRATION)
7.1. Preferential Trading Area (PTA)= trading bloc=grants preferential access for certain products from participating countries through reduction of tariffs BUT not by completely eliminating them e.g.EU AND ACP.
7.2. Free trade area; abolishment of all types of tariff and forma of trade protection with and each other e.g. ASEAN Free Trade Area (AFTA)
7.3. Custom union; elimination of discrimination of commodity movement within the union area e.g. EU trade with non EU states.
7.4. Common market; free movement of capital and labor e.g EU
7.5. Economic and monetary union; common policies of economics,fiscal and monetary e.g. EU