REGIONAL INTEGRATION THEORIES
by Shannen Koh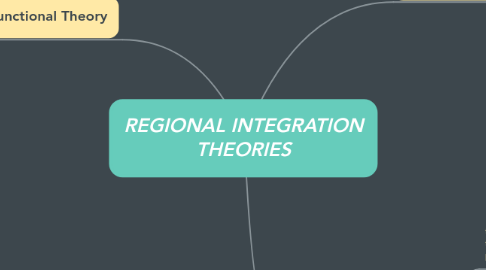 1. Federalist Theory
1.1. the HIGHER the level of the political will exists, the HIGHER the probability of a federal system to exist
1.2. characteristics
1.2.1. 1. Establishment of a huge Federal Government
1.2.2. 2. establishment of a Central Politician Institution
1.2.3. 3.Surrender its sovereignty and decision making power
1.2.4. 4. Every single policy formulated, binds all members
1.2.5. 5. Political elites who shares a collective purpose and needs
2. Transactionalist Theory
2.1. the HIGHER the level of communication transactions, the HIGHER the level of probability of integration taking place
2.2. characteristics
2.2.1. 1. Integration does not place importance on political institutionalization
2.2.2. 2. Integration will take place solely based on increase rate of transaction it promotes a sense of community among member's countries.
2.2.3. 3. Trust and responsiveness concept
3. Neo-Functional Theory
3.1. preconditions
3.1.1. (a) value of change among political elites
3.1.2. (b) more positive spillover effects are seen and felt
3.2. characteristics
3.2.1. 1. a process over the course of time and not necessarily an ultimate condition
3.2.2. 2. a process where there is change taking place among the political elites a.k.a "incrementalism"
3.2.3. 3. "Spillover" concept
3.2.4. 4. Linear concept of integration