Beyond Student X's IEP
by Haylie Decatur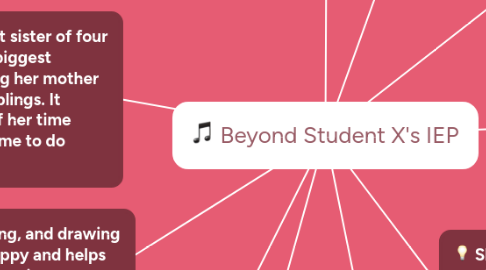 1. She will be the first in her family to graduate high school, and she wishes to be the first one in her family to graduate college as well.
2. The Arts. My student wishes to become a singer, dancer, and artist. She would like to go to a high school that lets her explore her creativity more.
3. Her strength in school is math and making new friends.
4. She admits to becoming angry and frustrated in school when she doesn't understand something because it makes her feel "stupid." She is working on finding ways to cope with her emotions.
4.1. Student X has emotional disabilities that she is quite aware of. Her discussion of her disability reminded me of Darryl Robinson's quote, "school often felt like a battlefield." (Robinson, 2012) For her, struggling in school is deeply connected to her self-esteem which can lead to extreme negative self talk that student X expressed she is working on.
4.1.1. Citation:
5. She is the oldest sister of four kids and says her biggest challenge is helping her mother take care of her siblings. It consumes much of her time leaving her little time to do things for herself.
6. Singing, dancing, and drawing make her very happy and helps her control her emotions.
7. She loves playing Minecraft.
8. Reading is harder than math for her, but her favorite teacher Mrs. Fayhe has helped her reading in the recent years.
9. She loves leadership roles in and out of the classroom. She is currently on the school's green team and is really enjoying it.
10. She loves making her friends and teacher laugh.