Incorporating Technology with FNMI Content Across Subject Areas
by Abigail Curle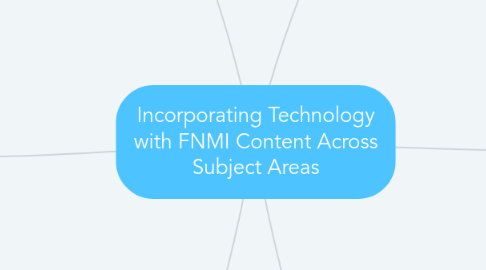 1. Math
1.1. Teach the math behind wigwam design (can teach radius, circumference, area) and then work with students to print a small wigwam model using a 3D printer!
1.2. Teach students about spatial reasoning and shapes through the art of birch-bark biting and have them film a screen-casting video using the app Explain Everything, with pictures and their own drawings to explain to other students what they have learnt.
1.3. Have students listen to a recording of what sounds like an exchange between two people doing a fur trade and have it involve a disagreement about price. The students need to use addition to figure out who is right and then record themselves explaining their answer using a voice-recording program like the one in Seesaw.
2. Science
2.1. Have students go outside and take photos of plants, then post them on an Instagram page with captions explaining their traditional use by FNMI peoples for food and medicine.
2.2. Have students make a PowerPoint about a scientific invention discovered/created by an Indigenous Canadian.
2.3. Have students make a stop-motion animation about how Indigenous peoples traditionally predicted weather using an app like Stop Motion Studio.
3. Art
3.1. Have students curate their own virtual museum of art by FNMI artists using Google Slides.
3.2. Zoom chat with an Elder who tells a traditional legend and the students can create artwork to illustrate it using real paint or the Paint program.
3.3. Watch video recordings of the Buffalo Dance and students can use EdPuzzle to add comments/voiceover on the video explaining the symbolism and importance of the movements, costumes and music.
4. Social Studies
4.1. History
4.1.1. Have students film a news report using iMovie about a historic event impacting Indigenous peoples.
4.1.2. Have students make a concept-map (like this one made on MindMeister) about the major events, settings, key characters and impacts of a time of change in the history of FNMI peoples.
4.2. Have students make a documentary using iMovie, interviewing members of the FNMI community (including Elders) in their city about what reconciliation means to them.
4.3. Teachers could quiz their students on elements of traditional Indigenous ways of life (shelter, food, clothing, beliefs etc.) using Kahoot.
4.4. Geography
4.4.1. Use Google Earth to teach about treaty territories.
4.4.2. Have students draw on a blank map of Canada, using a tool such as Seesaw, to map where different Indigenous languages were/are spoken.
5. Indigenous Languages
5.1. Have students post pictures on Snapchat of various objects with the Blackfoot word for that object as the caption.
5.2. Make a class website using Weebly where Cree terminology learned in class is posted for easy at-home access.
5.3. Students can work in groups to make a collaborative presentation using Google Slides explaining why Indigenous languages should or shouldn't be taught in schools.
6. ELA
6.1. Have students write a literary blog on a site like KidBlog about works by Indigenous authors/about Indigenous peoples.
6.2. Have students analyze a poem about traditional FNMI ways of life by writing directly on a photo of the poem using Seesaw.
6.3. Have students record a podcast using an app like Speaker about the role/importance of storytelling in Indigenous culture.