Max Clausius - "Present knowledge is wholly dependent on past knowledge" Discuss this claim with reference to two areas of knowledge.
by Maximilian CLAUSIUS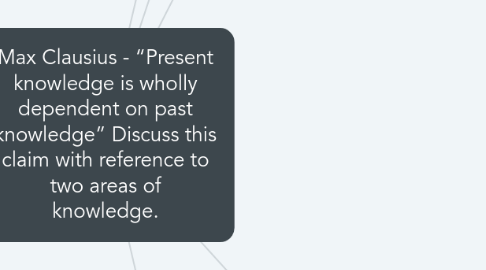 1. Keywords
1.1. Knowledge
1.1.1. Anything that provides information. Be it true or false, knowledge can be a fact or an opinion.
1.2. Discuss
1.2.1. Considering multiple perspectives to determine or conclude that one perspective is more valid than another, or no perspectives are superior.
2. Key Phrases
2.1. Wholly dependent
2.1.1. An absolute. It is entirely reliant on something.
2.1.1.1. In this case, present knowledge is entirely reliant on knowledge from the past
2.2. Present knowledge
2.2.1. Knowledge produced today, to predict the future, or understand the current.
2.3. Areas of knowledge
2.3.1. The different subsections of knowledge, including the Arts, the Sciences (Natural & Human), Mathematics, RKS, IKS, Ethics, History
2.4. Past knowledge
2.4.1. Knowledge that has been produced till today.
3. Rewrite
3.1. "The knowledge we have today, is entirely as a result of knowledge produced from the past" Compare this statement with reference to 2 areas of knowledge
4. Rewrite
4.1. Subject 1
4.2. Subject 2
4.3. Subject 3
5. Connections to Classes
5.1. Human Sciences
5.1.1. Economics
5.1.2. Rise in populist extremists portraying relations to the Holocaust.
5.1.2.1. Connection
5.1.2.1.1. Emotion
5.1.2.1.2. Historical Development
5.1.2.2. Connection
5.1.2.2.1. Language
5.1.2.2.2. Language and Concept
5.2. Mathematics
5.2.1. Mathematics
5.2.2. ...
5.2.2.1. Connection
5.2.2.1.1. WOK 1
5.2.2.1.2. Framework Area
5.2.2.2. Connection
5.2.2.2.1. WOK
5.2.2.2.2. Framework Area
5.3. Arts
5.3.1. The Arts
5.3.2. The artists and audience of arts perception of Arts from a historical context
5.3.2.1. In receiving knowledge
5.3.2.1.1. Sense Perception
5.3.2.1.2. Historical development
5.3.2.2. In creation of knowledge
5.3.2.2.1. Emotion
5.3.2.2.2. Personal Knowledge