Misato "Present knowledge is wholly dependent on past knowledge." Discuss this claim with reference to two areas of knowledge.
by Misato NIWA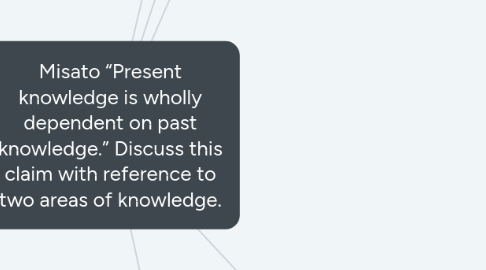 1. Keywords
1.1. Present
1.1.1. The time now
1.2. Wholly
1.2.1. completely
1.3. Knowledge
1.3.1. knowledge acquisition or knowledge production? or both?
1.4. Past
1.4.1. What is the past, how far is the past, everything up till now?
1.4.2. time in the past
2. Key Phrases
2.1. Present Knowledge
2.1.1. Knowledge that is produced or has been acquired now
2.2. 2 AOKS
2.2.1. Using 2 areas of knowledge in the essay to support claims and counterclaims
2.3. Wholly Dependent
2.3.1. only dependent on // completely dependent on
3. Rewrite
3.1. What we know now is completely based upon everything that we are aware of throughout history
4. Rewrite
4.1. Subject 1 Lens
4.2. Subject 2 Lens
4.3. Subject 3 Lens? [Optional]
5. Connections to Classes
5.1. Natural Sciences
5.1.1. Biology
5.1.2. Knowledge of the present is dependent on that of the past
5.1.2.1. Gene editing technology = CRSPR : What is CRISPR gene editing, and how does it work?
5.1.2.1.1. WOK 1
5.1.2.1.2. methodology
5.1.2.2. More info abt it : To correct a disease-causing error that was inherited or crept into our DNA when it replicated. Or, in some cases, to enhance the genetic code of crops, livestock or even people.
5.1.3. Knowledge of the present is not dependent on that of the past
5.1.3.1. PaceMaker discover in the 1950s by Wilson Greatbatch
5.1.3.1.1. faith
5.1.3.1.2. scope and application
5.2. Arts
5.2.1. Music
5.2.2. Knowledge acquired and produced now is dependent on that of the past
5.2.2.1. 1000 CE Guido D'Arezzo made many improvements in music theory
5.2.2.1.1. imagination
5.2.2.1.2. methodology?
5.2.2.2. He create the solfege which are the vocal notes : d re mi fa so la ti do
5.2.3. Knowledge of the present is not dependent on that of the past
5.2.3.1. kintsugi
5.2.3.1.1. WOK 1
5.2.3.1.2. Framework Area
5.3. Subject 3? [Optional]
5.3.1. AOK
5.3.2. Claim
5.3.2.1. RLE/PK Connection
5.3.2.1.1. WOK 1
5.3.2.1.2. Framework Area
5.3.3. Counterclaim
5.3.3.1. RLE/PK Connection
5.3.3.1.1. WOK 1
5.3.3.1.2. Framework Area