EMPOWERMENT TECHNOLOGY
by lyssa lee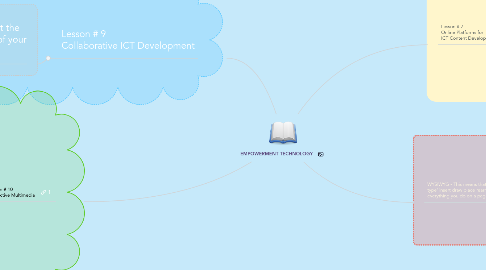 1. WYSIWYG - This means that whatever you type' insert draw place rearrange and everything you do on a page.
1.1. Lesson # 8 Basic Web Page Creation
1.2. Other Ways to Create a Website- If you not WYSIWYG is designed for anyone who has not or does not have proir coding skills.
2. Lesson # 7 Online Platforms for ICT Content Development
2.1. 1.Social media platform- The only downside of this is that you are restricted to facebook "one-size-fits-all" design
2.2. 2.Blogging Platforms- Websites like wordpres, tumblr, and blogger focus on content and change.
2.2.1. 3.Content management system- A content system ( CMS ) is a computer application.
3. Lesson # 9 Collaborative ICT Development
3.1. Create a new organization- fill out the information with the information of your gruop.
3.1.1. A web portal is a website that contains information from different sources and places them in one location in uniform way.
4. Lesson # 10 Interactive Multimedia
4.1. WARNING VIRUS CAUTION
4.1.1. VIDEOS ONLINE GAMES ONLINE TESTS VODCASTS
4.1.1.1. Modern websites add multimedia content their site without sacrificing too much bandwidth. you can insert a youtube video on your blog post by simply copying the code.