EMPOWERMENT TECHNOLOGIES
by Tammygaile Galicia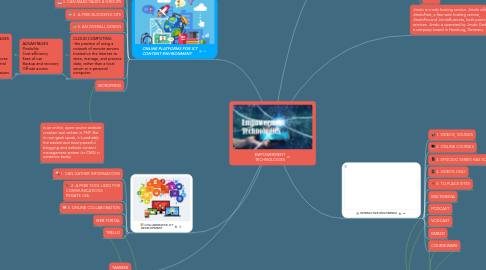 1. YAMMER
2. Jimdo is a web hosting service. Jimdo offers JimdoFree, a free web hosting service, JimdoPro and JimdoBusiness, both premium services. Jimdo is operated by Jimdo GmbH, a company based in Hamburg, Germany
3. ONLINE PLATFORMS FOR ICT CONTENT ENVIRONMENT
3.1. 1. PUBLIC EDIT
3.2. 2. LIKE A NEWSLETTER
3.3. 3. CAN MAKE PAGES & GROUPS
3.4. 4. A FREE BLOGGING SITE
3.5. 5. AN OVERALL DESIGN
3.6. CLOUD COMPUTING -the practice of using a network of remote servers hosted on the Internet to store, manage, and process data, rather than a local server or a personal computer.
3.6.1. ADVANTAGES Flexibility Cost-efficiency Ease of use Backup and recovery Off-site access
3.6.1.1. DISADVANTAGES 1. network connection dependency 2.limited features 3. loss of control 4. Security 5. Technical issues
3.7. WORDPRESS
4. BASIC WEB PAGE CREATION
4.1. 1. WHAT YOU SEE IS WHAT YOU GET, CAN CHANGE AND CREATE DESIGNS.
4.2. 2. HYPERTEXT MARK UP LANGUAGE
4.3. 3. CASCADING STYLE SHEETS
4.4. 4. FREE WEBSITE PROVIDER
4.5. 5. READY MADE DESIGN
4.6. 6. TOPMOST LABEL
4.7. 7. SEARCH ENGINE OPTIMIZATION
4.8. JIMDO
5. COLLABORATIVE ICT DEVELOPMENT
5.1. 1. CAN GATHER INFORMATIONS
5.2. 2. A FREE TOOL USED FOR COMMUNICATIONS PRIVATE USE.
5.3. 3. ONLINE COLLABORATION
5.4. WEB PORTAL
5.5. TRELLO
6. INTERACTIVE MULTIMEDIA
6.1. 1. VIDEOS, SOUNDS
6.2. 2. ONLINE COURSES
6.3. 3. EPISODIC SERIES HAS SOUNDS ALSO
6.4. 4. VIDEOS ONLY
6.5. 5. TO PLACE SITES
6.6. MULTIMEDIA
6.7. PODCAST
6.8. VODCAST
6.9. EMBED
6.10. COURSEWARE
7. is an online, open source website creation tool written in PHP. But in non-geek speak, it's probably the easiest and most powerful blogging and website content management system (or CMS) in existence today.
8. A web portal can be used to prOvide the user with personalised information such as employee training, safety manuals or a customer profile.Sep 26, 2017
9. Trello is a web-based Kanban-style list-making application. Originally made by Fog Creek Software in 2011, it was spun out to form the basis of a separate company in 2014 and later sold to Atlassian in January 2017. The company is based in New York City
10. Yammer is a freemium enterprise social networking service used for private communication within organizations
11. using more than one medium of expression or communication.
12. A podcast is an episodic series of digital audio or video files which a user can download in order to listen
13. A vodcast is a podcast that contains video content. The term vodcast comes from the combination of the words "video" and "podcast"
14. That means you'll be able to click on a link in whatever you publish
15. Courseware is educational material intended as kits for teachers or trainers or as tutorials for students, usually packaged for use with a computer. Courseware can encompass any knowledge area, but information technology subjects are most common.