STRATEGY AND TACTICS OF INTEGRATIVE NEGOTIATION
by Oly Gómez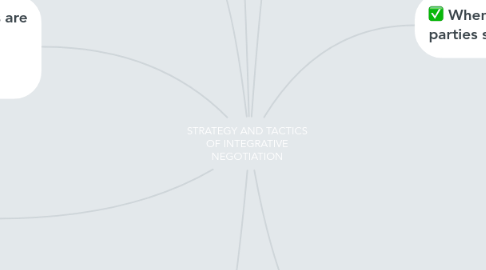 1. What makes this type of negotiation different?
1.1. Use objetive criteria for standards of performence
1.2. Exchange information and ideas
1.3. Focus on the commonalities rather than the differences
1.4. Invent options for mutual gain
1.5. Commit to meeting the needs of all involved parties
1.6. Attempt to address needs and interests, not positions.
2. Characteristics of the Interest-Based Negotiator
2.1. maturity
2.2. Honesty and integrity
2.3. abundance mentality
2.4. Listening skills
2.5. systems orientation
2.5.1. this will help looking at ways in which the system can be optimized
3. When in a integrative negotiation parties should
3.1. Searching for solutions that meet both sides
3.2. Emphasizing the commonalities between the parties and minimizing the differences
3.3. Attempting to understand the other negotiators real needs and objectives
3.4. Creating a free flow of information
4. CREATING VALUE
5. Identify and define the problem
5.1. Define the problem in a way that is mutually acceptable for both sides
5.2. State the problem with an eye toward practicality and comprehensiveness
5.3. state it as a goal and identify the obstacles to attaining this goal
5.4. depersonalize
5.5. identify needs and interest
6. Generate alternative solutions
6.1. find a bridge solution
6.1.1. invent a new option that meet all their respective needs
6.2. Expand the pie
6.2.1. add resources
6.3. logroll
6.3.1. it requires the parties to find more than one issue in conflict so they can trade them and prioritized
6.4. use nonspecific compensation
6.4.1. allow one person to obtain his objetives and pay off the other person
6.5. cut the costs for compliance
7. Factors that facilitate successful integrative negotiation
7.1. trust
7.2. some common objetive or goal
7.3. faith in one´s problem-solving ability
7.4. a belief in the validity of one´s own position and the othre´s perspective
7.5. clear and accurate communication
8. One within which the parties are able to define goals that allow both sides to achieve their objetives.