Fluids & Gases
by Emilio Lozano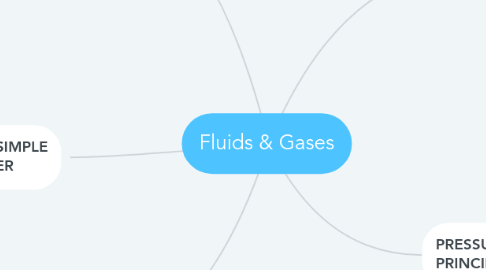 1. BUOYANT FORCE:
1.1. pressure arises purely due to the combined weight of all mass
1.2. The force that allows the submarine to stay afloat is known as the buoyant force
1.3. buoyant force does not get smaller as you sink
1.4. amounts of dissolved gases in your bloodstream is related to the pressure that you're sitting at
2. PRESSURE AND PASCAL`S PRINCIPLE
2.1. FLuid
2.1.1. anything that takes the shape of its container
2.1.1.1. two types of Fluids
2.1.1.1.1. Liquid
2.1.1.1.2. Gas
2.2. work is equal to force times distance and work in equals to work out
2.2.1. which lead us to force in times work in equals to force out times work out.
2.3. Pressure is a force in a given area
2.4. any external pressure onto an incompressible fluid the pressure is distributed evenly throughout the fluid that equals to the Pascal Principle
2.4.1. and a Pascal is a way to messure pressure that and the convertion is
2.4.1.1. 1 Pascall = 10 Newtons per meter squered
3. ABSOLUTE TEMPETURE
3.1. Tempeture is
3.1.1. measure of the average kinetic energy of the particles in a system
3.1.1.1. are mesured in 3 scales
3.1.1.1.1. Kelvin
3.1.1.1.2. Celsius
3.1.1.1.3. Fahrenheit
3.2. as Kelvin has no negative values
3.2.1. when the tempeture reach 0 degree kelvin means
3.2.1.1. Particles have not kinetic energy and is called "ABSOLUT 0"
4. PRESSURE AND THE SIMPLE MERCURY BAROMETER
4.1. Matter exists in 3 different states: Liquid, Solid and Gas
4.1.1. Gas have not shape and volume
4.1.1.1. Which make that gas exerts pressure to the surroundings
4.1.1.1.1. Evangelista Torricelli made a device called "Mercury Barometer" to mesure the pressure with mercury. mercury behaive depends the amount of atmosferas affecting it
4.1.1.1.2. 1 Atmosphere equals 760 millimiters of mercury
4.1.1.1.3. 1 atmosphere equals to 101,325 Pascals
5. DEFINITION OF AN IDELA GAS, IDEAL GAS LAW
5.1. Pressure is related to the inverse of volume
5.1.1. ideal gas equation is
5.1.1.1. Pv = nRT
5.1.1.1.1. that is used to
5.1.1.2. ideal gas have 3 conditions
5.1.1.2.1. 1. The molecules can't exhibit any intermolecular forces
5.1.1.2.2. 2. The molecules occupy no microscopic volume
5.1.1.2.3. 3. All collisions are perfectly elastic