Horizon Report 2012
by
Patricia Anderson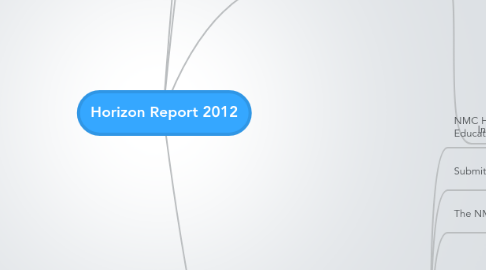 0.0
stars - reviews range from
0
to
5
Horizon Report 2012
ONE YEAR
Mobile apps
Tablet computing
TWO TO THREE YEARS
Game-based learning
specific classes
School of Ed
Mika Laaveque-Manty, Sweetland Writing, Poli Sci
EECS, Soloway?
outside class, orientation
Dearborn
Learning analytics
FOUR TO SIX YEARS
Gesture-based computing
NPR: All Things Considered
Wii
Kinect
Touch screen
Gesture passwords
multisurface / multiple surface, Table/Wall computer/displays
Examples in popular culture, NCIS Los Angeles, Iron Man, Tenchi Muyo
Internet of things
What is this?, Doug Englebart, Mother of All Demos, SmartHouse, Star Trek, "Earl Grey, hot", "computer, dim lights"
Examples, Smart appliances, Arduino, Fashion, Lilypad, Windowshield, GPS trackers, Geocaching, RFID?
About, Video
Educational opportunities, Relationship with augmented reality, Big data, Learning analytics
Resources
2012 Predictions
TheNextWeb: 5 Trends
Mashable: 5 web trends & technologies
Gartner: 10 Strategic Technologies
Nucleus Research: Top ten predictions of 2012
TechCrunch: 7 Technologies that will rock 2011
Our Wishlist
What's happening, QR Codes, security, virus / porn, BIG DATA, Cyberlearning Summit, Cyberinfrastructure, Sustainability Initiative Report, map
What we want, Allow students to query learning analytics?, informed decisions, learning pathways, mobile, staff having mobile for work, telework, Adoption, gesture based computing, gaming, MOOCs
Themes, integration of data, privacy concerns, critical thinking, click through licenses, how to read, advising students, warning signs, University vetting process/service?