Integrating Technology and Math for Kindergarten
by Denise Moore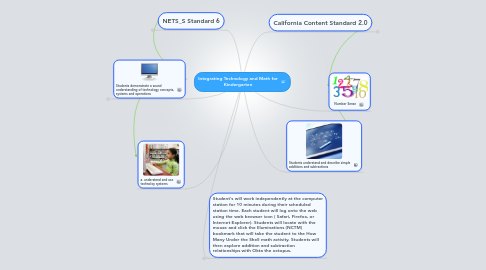 1. a. understand and use technoloy systems
2. California Content Standard 2.0
2.1. We hope you'll have fun with MindMeister ...
2.2. Get started now!
2.3. ... and some great ideas too!
3. Student's will work independently at the computer station for 10 minutes during their scheduled station time. Each student will log onto the web using the web browser icon ( Safari, Firefox, or Internet Explorer). Students will locate with the mouse and click the Illuminations (NCTM) bookmark that will take the student to the How Many Under the Shell math activity. Students will then explore addition and subtraction relationships with Okta the octopus.
3.1. Use toolbar to add ideas
3.2. Key shortcuts
3.2.1. INS to insert (Windows)
3.2.2. TAB to insert (Mac OS)
3.2.3. ENTER to add siblings
3.2.4. DEL to delete
3.2.5. Press F1 to see all key shortcuts
3.3. Drag & Drop and double-click canvas
3.4. Find out more?
3.4.1. Online Help
3.4.2. Use Cases & Templates
3.4.2.1. Personal Todo List
3.4.2.2. Vacation Planning
3.4.2.3. Meeting Minutes
3.4.2.4. Project Plan
3.4.2.5. more...
3.4.3. Tools and Gadgets
3.4.3.1. Offline Mode
3.4.3.2. Geistesblitz Tools
3.4.3.3. Email & SMS Gateways
3.4.3.4. Offline Mode
4. NETS_S Standard 6
4.1. Check out http://www.mindmeister.com/tools
5. Number Sense
6. Students understand and describe simple additions and subtractions
7. Students demonstrate a sound understanding of technology concepts, systems and operations
7.1. New node