Rosnah Mohd Zain. Director, Oral Cancer Research and Coordinating Centre, UM
by
Rosnah Mohd Zain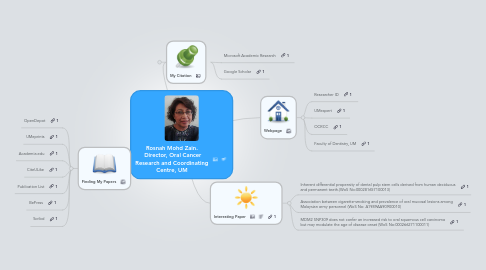 5.0
stars -
1
reviews range from
0
to
5
Rosnah Zain is a Consultant in Oral Pathology and Oral Medicine. She had published widely with her main area of research being oral mucosal lesions and oral cancer. She also has a special interest in research on special needs dentistry. Currently, she is the Dean of Faculty of Dentistry of University Malaya. She is also the Director of Oral Cancer Research and Coordinating Centre, Faculty of Dentistry, University of Malaya.
My Citation
Microsoft Academic Research
Google Scholar
Webpage
Researcher ID
UMexpert
OCRCC
Faculty of Dentistry, UM
Finding My Papers
OpenDepot
UMeprints
Academia.edu
CiteULike
Publication List
BePress
Scribd
How the search my ISI-Cited Paper:a) Logon to http://apps.webofknowledge.comb) Click "Select a Database" and choose Web of Science.c)Choose to search with accession no.d)Enter the WoS No:?????????????
Inherent differential propensity of dental pulp stem cells derived from human deciduous and permanent teeth.(WoS No:000281657100013)
Association between cigarette-smoking and prevalence of oral mucosal lesions among Malaysian army personnel (WoS No: A1989AA90900010)
MDM2 SNP309 does not confer an increased risk to oral squamous cell carcinoma but may modulate the age of disease onset (WoS No:000266271100011)