WHERE YOU CAN TAKE YOUR STUDENTS WHEN YOU ENGAGE PRODUCTIVELY WITH DEVICES THROUGH M-LEARNING
by Eloise Newbery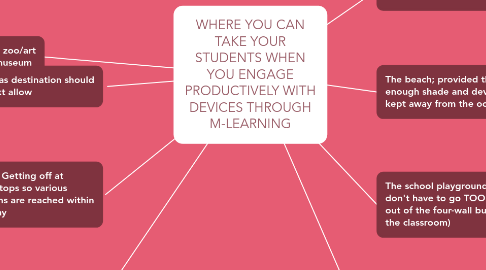 1. A nice cafe with the promise of coffee and biscuits!
1.1. Sometimes students need this type of incentive and that's OK.
2. The beach; provided there's enough shade and devices are kept away from the ocean.
3. The local zoo/art gallery/museum
4. An overseas destination should the context allow
5. The train!! Getting off at different stops so various destinations are reached within the one day
6. The school playground!! (You don't have to go TOO far to get out of the four-wall bubble of the classroom)
7. The local cinema!! Students could engage in the study of film by actually immersing themselves in a film viewing
7.1. The teacher, in this case, would naturally have to consider that mobile phones are often frowned upon in theatre settings, so perhaps it could always be arranged for the theatre to be booked entirely for students' private viewing.
8. Mobile Learning: Mobile Tech in the Classroom