BUSINESS ENVIROMENT - BIODEGRADABLE UTENSILS
by Cristina Delgado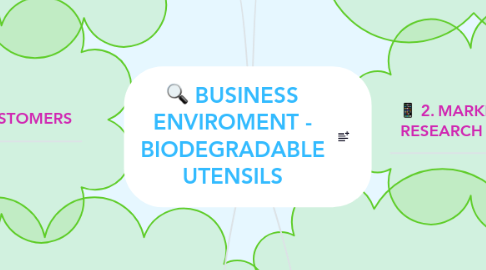 1. 1. USP
1.1. Preparation of biodegradable cereal-based utensils produced in Ecuador, they biodegrade in a period of 3 to 7 days and do not pollute the environment
2. 2. MARKET RESEARCH
2.1. Currently, plastic utensils control the market, however due to the laws that are in force, single-use plastics must disappear, which gives us a great competitive advantage.
3. 3. PROFILE MARKET
3.1. Our target market refers to mass consumption customers in this case of food, that is why our demand is high since we could say that anyone who eats can use them.
4. 4. MARKET
4.1. The market size is large, and it is growing due to the increase in the green trend, in order to reach more quickly it is expected to distribute our product to large food chains.
5. 6. PRICE
5.1. Packed utensil kit: $0.75 Individual: $0.35 Packed utensil kit (cereal residues): $0.50 Individual: $0.25
6. 5. CUSTOMERS
6.1. Because it is a mass consumer product we do not have a demographic segmentation marked either by age, sex or ethnicity, however we could say that it is aimed at people who consume food outside their home or delivery