Sustainable Architecture Typology: The Six Competing Logics
by
Grazyna Pilatowicz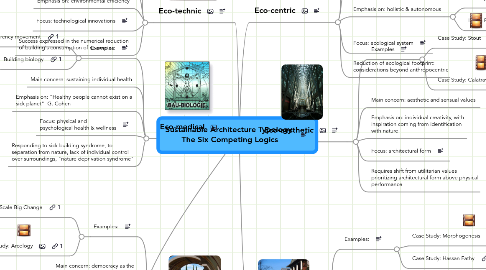 5.0
stars -
2
reviews range from
0
to
5
Sustainable Architecture Typology: The Six Competing Logics
Diagram depicting typology of sustainable architecture proposed by Simon Guy and Graham Farmer in: Guy, Simon, and Graham Farmer. "Reinterpreting Sustainable Architecture: The Place of Technology." Journal of Architectural Education (1984-) 54.3 (2001): 140-148. Print. Logic: "a specific ensemble of ideas, concepts and categorisations tat are produced, reproduced and transformed in a particular set of practices through which meaning is given to social and physical realities." Marteen Hajer. The Politics of Environmental Discourse, Oxford:Oxford University Press, 1995. P. 44
Eco-technic
Norman Foster: City Hall, London, England
Examples:
Architecture of: Norman Foster, Richard Rogers, Nicholas Grimshaw, Michael Hopkins, Renzo Piano, Thomas Herzog, Ken Yeang
Main concern: global environmental problems
Universal, global environmental problems: Climate change Global warming Ozone layer depletion Transnational polution
Emphasis on: environmental efficiency
Focus: technological innovations
Possible elements and systems: Double-skin walls and roofs New types of glass Passive solar design Intelligent facades Photovoltaics Energy-efficient lighting Water saving devices and technologies Use of natural and mixed-mode ventilation Floor air delivery Sophisticated energy management systems, etc
Success expressed in the numerical reduction of building's consumption of resources
Eco-centric
Sim Van der Ryn: Real Goods Solar Living Center, Hopland, Ca
Examples
Biomimcry - Janine Benyus Some aspects of Biophilic Design Sim Van der Ryn: Ecological Design Michael Reynolds: Earthships Living Building Challenge
Main concern: protection of ecosystems and natural resources
Emphasis on: holistic & autonomous
Focus: ecological system
Ecosystem: self-supporting and self-regulating community of interdependet living and nonliving parts functioning together with one imput necessary: energy To reduce "ecological footprint": Small scale Low and intermediate technologies Reducing dependency on centralized infrastructure services of water, energy and waste - "off-grid" renewable, natural materials
Reduction of ecological footprint: considerations beyond anthropocentric
Eco-aesthetic
Santiago Calatrava
Examples
Frank Gehry, Santiago Calatrava, Randall Stout Arata Isosaki, SITE
Main concern: aesthetic and sensual values
Emphasis on: individual creativity, with inspiration coming from identification with nature
Focus: architectural form
Metaporical role of sustainable architecture. Interest in new technologies merged with ecological models to achieve new aesthetic that utilze organic forms Connection with Biophilic Design: organic shapes and forms, light and space
Requires shift from utilitarian values prioritizing architectural form above physical performance
Eco-medical
Examples:
Baubiologie - home as a living organism; healing envrionments, Christopher Day Peter Schmid Floyd Stein
Main concern: sustaining individual health
Emphasis on: "Healthy people cannot exist on a sick planet" G. Cohen
Focus: physical and psychological health & wellness
Natural ventilation, Daylight, Views, Non-toxic materials and finishes Natural and tactile materials Traditional building menthods, Use of color to promote health.
Responding to sick building syndrome, to separation from nature, lack of individual control over surroundings, "nature deprivation syndrome"
Eco-social
Paolo Soleri, Arcosanti
Examples:
Alternative communities: Paolo Soleri & Arcology Habitat for Humanity...
Main concern: democracy as the key to an ecological society
Emphasis on: social factors - freedom, democracy and individual self-realization
"the more hierarchical and oppressive the nature of society, the more likely that it will abuse and dominate the environment" Guy & Farmer (2001) p.145
Focus: co-operative social & ecological community
Smaller, highly self-sufficient and communal units Flexible buildings that use renewable, recycled, and/or local materials.
Decentralization, self-sufficiency, democratic, participatory technologies based on laws of ecology and grounded in local ecological conditions
Eco-cultural
Examples:
Frank L. Wright, New Urbanism, Glen Murcutt in Australia Charles Correa in India Hassan Fathy in Egypt,,,
Main concern: preservation of diversity of existing cultures
Emphasis on: environmental and cultural
Relates to place-based or vernacular connection - elements of biophilic design. Takes inspiration from indigenous and vernacular.
Focus: sense of place and connection
Being indigenous to a place Responsibility for protecting landscape and ecosystems Small scale Cultural context Traditional, vernacular construction techniques Traditional, vernacular building typologies Local materials
Decentralization, bioregionalism, use of local materials. response to climat