Encourage public transport experience for seniors with smart cities How to develop a sustainable and accessible transport policy for all in times of recession?
by Camille Barrière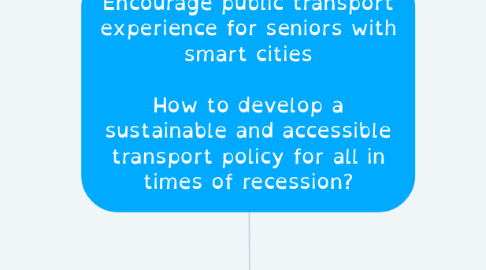 1. Key words
1.1. Encourage: "To make someone more likely to do something, or to make something more likely to happen" (Cambridge Dictionary).
1.1.1. Like a manager
1.1.1.1. Think like the consumer of services to understand it, and even broader than transport: install benches in the city to encourage travel, address the problem of the last kilometer (distance between the transport access point and the home)...
1.1.1.2. Ways to do so according to managers.org.uk: show that you understand the perspectives, define and review goals that align with the organisation's purpose, give seniors a good listening to...
1.1.2. Like a politician
1.1.2.1. CIVITAS Initiative is a European action that helps cities to implement an integrated policy of sustainable, clean and efficient transport. The lessons learned during the planning, implementation and operational phases of the activities are summarised in twelve Policy Advice Notes and give cities in the European Union an idea of how to address their future urban transport problems.
1.1.2.2. At the OECD international conference "Towards Sustainable Transport" in 1996, it was agreed that "every human being has the right to reasonable access to people, places, goods and services as well as to reliable information, which enables them to move towards sustainable transport".
1.1.2.3. At European level, directives (more flexible than regulations in particular) can be adopted, such as the one of 7 July 2010 concerning the framework for the deployment of intelligent transport systems in the field of road transport and interfaces with other transport modes
1.1.3. Like a citizen
1.1.3.1. In The Responsibility Principle, the philosopher Hans Jonas proposes a new categorical imperative: "Act in such a way that the effects of your action are compatible with the permanence of an authentically human life on Earth".
1.1.3.2. Above all, show respect for the elderly: leave your seat in the metro, be courteous, do not rush in the transport...
1.2. Seniors: The oldest part of society, even if the precise age is difficult to grasp: "it is at 69 that we consider ourselves senior" (France 2, Julie Beckrich, 2016), but we are considered senior at 65 for the pension fund, 60 for social security, 55 for INSEE, 50 for Pôle emploi, 70 for doctors...
1.2.1. A huge category: different needs
1.2.1.1. Increase the number of seats available in metros and trams
1.2.1.2. Reinforce preferential tariffs for this age group with the lowest incomes
1.2.1.3. Provide access for people with disabilities to public transport within the city walls (metro, bus...)
1.2.1.4. Facilitate mobility in the hubs for young retirees who wish to go on holiday
1.2.2. A dispersed category: different cleavages
1.2.2.1. Socio-spatial segregation in transport within cities (e.g. between line 1 of the Paris metro and peripheral metros)
1.2.2.2. Spatial segregation between big cities and the "province" (ex: seniors yellow vests), unequally served
1.2.2.3. Economic gap and precariousness (cf. Les Echos, "Grey jacket, yellow jacket): one third of pensioners are not homeowners, PLFSS of 3 December 2018 (draft law on the financing of social security for 2019 ratifying the under-indexation of pensions on inflation, an impact of about 1.4%), increase of 1.7% of the CSG on pensions since 1 January 2019...
1.2.3. An excluded category: different problems
1.2.3.1. The study "Mobility of seniors in France" conducted by Auxilia reveals that one senior in three does not leave home every day and that 44% of those aged 75 and over report being embarrassed to move around; 25% of those aged 75 and over, living outside the transport area, do not make any trips throughout the week.
1.2.3.2. In Japan, the Senior Citizen Mark is a sticker affixed to senior motorists' vehicles that invites other drivers to drive with care for their elders; but in France, it might be seen as too stigmatizing...
1.3. Smart cities: "A new urban development concept aimed at improving the quality of life of urban dwellers by making the city more adaptive and efficient, using new technologies based on an ecosystem of objects and services" (French CNIL).
1.3.1. According to Rudolf Giffinger, an expert in analytical research on urban and regional development at the Vienna University of Technology, smart cities can be classified according to six main criteria, including the economics of transport and ICT, quality of life....
1.3.1.1. Access information on their movements in real time, share a city's resources (car, parking...), pay with simple smartphone applications...
1.3.1.2. Intelligent mobility includes better multimodal access, the gradual development of soft modes of transport, and better connected infrastructure. It is currently the cornerstone of smart cities, with international and local accessibility.
1.3.2. The concept of easy city (BNP Paribas), where citizens' daily tasks are simplified and made more pleasant is also linked to improved transport.
1.3.2.1. Access information on their movements in real time, share a city's resources (car, parking...), pay with simple smartphone applications...
1.3.2.2. The Luxe Valet start-up, which has just launched in San Francisco, provides motorists with "valets" who park their cars, simply by collecting real-time data on car parks or other available spaces in the city.
1.3.3. The smart city, better connected to the rest of the world
1.3.3.1. Japan is testing its own magnetic train, which could reach 500km/h and the American public company Amtrak wants to develop a train reaching 350km/h on the west and east coast of the United States.
1.3.3.2. Smart cities can develop in different contexts, whether they are new cities, particularly in emerging countries (Masdar-Emirat in Abu Dhabi, Songdo in South Korea, King Abdullah Economic City in Saudi Arabia...), evolving territories (PACA region which becomes a SMART region, metropolis of Greater Lyon, Barcelona, Confluence district...), or less urban and rural territories (e. g: the ski resort of Les Orres in the Hautes-Alpes aims to become the 1st Smart Mountain in Europe)
1.4. Public ransports: "A system of vehicles such as buses and trains that operate at regular times on fixed routes and are used by the public" (Cambridge Dictionary).
1.4.1. Perception by seniors
1.4.1.1. Need for comfort in a world where speed is increasing and distances are getting longer; according to a study conducted in September 2014 in Ile-de-France, to be comfortable, a trip must allow psychological comfort (stay in control of your activities, preserve your self-image (e.g. not sweating, making a fool of yourself when you fall), preserve your privacy (not being stuck to others)...) and physical comfort (all the more painful for seniors)
1.4.1.2. Some public transport systems, such as the metro, convey a particularly negative image, likely to repel the more vulnerable seniors. Until recently, Joker (from Todd Philipps) shows a dangerous subway, where intolerance, hatred of others, gratuitous violence and insecurity come together (scene of the attack on Joachim Phoenix by the three men from the City in particular)
1.4.2. Develop smart public transports
1.4.2.1. In Analysis of Sustainable Transport for Smart Cities (Reasearch Lab), Dastan Bamwesigye identify 3 core values of sustainable transports: safe and consistent access to basic needs (security, health, stability...), value for money through efficiency in operation and affordability (various alternatives...), and emissions control and global waste management .
1.4.3. Real daily problems
1.4.3.1. According to a study published in December, at least 267,000 people, "mostly women", were victims of sexual abuse in 2014 and 2015 on public transport.
1.4.3.2. There is "a real problem of reliability in Parisian public transport", according to Alain Bonnafous, professor emeritus and researcher at the Lyon transport economics laboratory. These recurring problems are often related to the ageing of equipment.
1.4.3.3. 45% of users feel unsafe on public transport according to the "Living Environment and Safety" survey, 2010-2013, Insee-ONDRP), a figure that increases when aggravating factors are present (lack of cleanliness, degraded areas, poor lighting, incivility, lack of surveillance cameras, lack of visible personnel,...)
2. Interest of the topic
2.1. Smart cities, a popular concept
2.1.1. A huge current necessity
2.1.1.1. Cities occupy 2% of the earth's surface and produce 80% of greenhouse gas emissions. They represent 50% of the world's population, but they also concentrate the greatest socio-spatial inequalities, aggressions... The objective of cities, metropolises and territories is therefore to support this societal, political and environmental challenge.
2.1.1.2. It is an opportunity to democratize information and services. The citizen will become a partner and dynamic actor of tomorrow's city; it is thus an opportunity for today's working people to structure the world in which they themselves will be older people. Smart cities, for efficient and proactive management but also to optimize the needs of the citizen, will have to record each movement of citizens and store this information on servers. This means that personal data will be available to private servers.
2.1.1.3. 75% of the energy produced is consumed by cities
2.1.2. Increasingly ambitious initiatives
2.1.2.1. The project of the International City of Songdo district (South Korea) aims to create a space from scratch with buildings built to American high environmental quality standards, roads and buildings equipped with sensors and systems to measure and organize traffic, and anticipate and adjust energy consumption.
2.1.3. An opportunity for all
2.1.3.1. After having been tested in major cities, the smart city ideas are now applicable to medium-sized cities, many of which are now working on the subject, such as Saint-Amand Montrond, a pioneer in this field.
2.1.3.2. Returns on investment are not long in coming (cf. Club Finance, "Making the city smart saves money", 2019); in Saint-Amand-Montrond (Cher), the M2OCity remote reading service for communicating sensors has been tested since 2013 (energy consumption sensors, water leak detection or vehicle leak detection to limit parking to thirty minutes) at lower cost, and since 2013, on the €30,000 invested and the €12,000 in maintenance, the return on investment appeared from the first invoices (in 2018, savings on gas and electricity bills amounted to 117,300 euros compared to the previous year), not to mention the city's more traditional initiatives (40 video surveillance cameras installed), resulting in a significant reduction in the amount allocated to damage repairs.
2.2. Seniors, a group that matters
2.2.1. An ever richer group
2.2.1.1. Development of a silver economy, adaptation of our economies to the ageing population of developed countries in various sectors (leisure, transport, health, etc.)
2.2.1.2. In France, people over 50 years of age hold 68% of the net wealth, whereas they represent only 37% of the population. According to INSEE, people over 65 years of age hold half of the market capitalization. In Le Destin des générations, sociologist Louis Chauvel shows that the income of 35-39 year-olds has decreased by about 12% compared to the national average, all ages combined, while that of the 55-59 age group has increased by 11% compared to the national average. He therefore concludes that "the generations born in the 1940s thus appear to be surfing on a rising wave that breaks behind them".
2.2.2. An over-increasing group
2.2.2.1. "Represent a preponderant share of the population in the majority of industrialized countries" (Revue Gestion 2000, Gaëlle Boulbry), with 20.6% of the French metropolitan population in 2001 (Brutel), a share that according to the author "should reach more than 30% in 2050" (Revue Gestion 2000, Gaëlle Boulbry)
2.2.2.2. The population aged 60 and over will constitute a third of the French population in 2060 (Blanpain and Chardon, 2010), and so the proportion of people with disabilities is likely to increase in the coming years.
2.2.3. A deciding group
2.2.3.1. Development in recent years of a "silver culture" with the feeling of belonging to the same group (same problems, specific attitudes... "We retired people").
2.2.3.2. An active role in society: through consumption, services, taxes, volunteering, donations (seniors make more charitable donations per person than any other age group)
2.3. Transport, a growing problem
2.3.1. An issue on the agenda with the demographic explosion in major cities in developing countries, which requires the design of a smarter city
2.3.1.1. According to Afrikatech, the African Smart City should provide solutions to facilitate mobility, reduce energy consumption, manage waste and sanitation, help build green public institutions (a problem often managed by local SMEs called ESCOs, Energy Services Companies), promote job creation and digital development. Examples of companies in the transport sector are flourishing on the continent: Kubina in Angola, Alexandria Bike Concept in Egypt...
2.3.1.2. Singapore (first in the Juniper Research 2016 ranking on smart cities) has launched a Smart Nation program to address the challenges of mobility, energy management and green innovation: CleanTechPark (green industries, green buildings), reduction in car use (free transport in certain time slots, modulation of toll rates according to traffic, autonomous vehicles and sharing electric vehicles), electricity and gas bills mentioning the average consumption of the district to compare with others...
2.3.1.3. Initiatives to use new technologies to improve the quality of services provided to residents (energy, transport, housing, health, etc.) have already emerged in some countries: open source mapping used for the mapping of the Tandale slum in Tanzania, e-health telehealth application tested in Brazil...
2.3.1.4. By 2050, the proportion of the world's population living in urban areas is expected to reach 66%, compared to 54% in 2014 (United Nations Department of Economic and Social Affairs World Urbanization Prospect - 2014 Revision)
2.3.2. A social and environmental issue, at a time of yellow vests, carbon taxes, and crit'air stickers
2.3.2.1. The Mobility Orientation Bill (LOM) follows France's referral to the European courts by Brussels; this law provides for the establishment of low-emission zones (ZFEs), the strengthening of the penalty for the purchase of new cars, and the deployment of charging stations for electric vehicles.
2.3.3. A new sine qua non condition for participation in today's ever-changing world
2.3.3.1. J.-P. Orfeuil (2004) points out that mobility is considered as a new social norm: "the ability to move, the ability to go to various types of spaces, sometimes far from one's home or commune, are, today more than ever, essential conditions for the construction of satisfactory life trajectories and diversified social links"
2.3.3.2. 50% of French people regularly use buses, metros, trams, RER and TER (Mobility Observatory Study 2014), a figure that is constantly increasing
3. How to do so?
3.1. Develop alternative modes of transport
3.1.1. A new way to limit inconvenience
3.1.1.1. We must put an end to the perception of the car by seniors as a sign of autonomy, as proof that they do not depend on others and that they can take care of themselves alone. In fact, "seniors over 65 account for just over a quarter of all road deaths (25.2%). 869 people aged 65 or over were killed in a road accident in 2017" according to 2017 data from the National Inter-Ministerial Observatory on Road Safety (ONISR). It should also be conceived that a medical examination and follow-up should be required in France in order to be able to continue driving beyond a certain age.
3.1.1.2. The use of electric shuttles such as Navia, developed by a French company, could be a solution to increase the mobility of seniors and make their movements safer.
3.1.2. A new way to limit costs
3.1.2.1. Insurance companies consider that an elderly person falls into the category of at-risk motorists (poorer visual and hearing abilities, slower reflexes, altered alertness, heart problems, etc.); insurers therefore consider that accident risks are greater for seniors and apply higher prices after 60 years, even higher after 70 years, and at exorbitant prices after 80 years, even if they have never caused accidents before. The deductibles claimed in the event of a claim may also be more expensive than those charged to other motorists when you are an older driver.
3.1.2.2. According to the economist Frédéric Héran, "at the same speed, a cycle path is 200 times cheaper than an urban highway, 50 times cheaper than a heavy subway and 25 times cheaper than a tramway"...
3.1.3. A new way to recreate social cohesion
3.1.3.1. Develop intergenerational solidarity in understanding the cities of tomorrow, in particular to educate older people about the use of the Internet to monitor developments in online traffic (work, delays, etc.), or possibly to allow easier access for older people to mobile applications
3.1.3.2. As the philosopher Ivan Illich (Tools for conviviality, 1973) showed, tools (in the broadest sense: screwdrivers, factories, motorways...) shape the social relations between people and between people and the world. He distinguishes the tools according to their ability to make people autonomous and "capable of making sense of themselves by loading the world with signs". Convivial tools must generate efficiency without degrading personal autonomy, must not create slaves or masters, and must broaden the scope of personal action.
3.1.4. By becoming more connected, more disruptive
3.1.4.1. Set up more citizen consultations, even if it means giving priority to responses from the most "fragile" groups (people living alone, people with disabilities or reduced mobility, very old people, etc.), to find out what would encourage them to use public transport
3.1.4.2. Encourage start-ups to innovate in alternative transport (Start-up mag): develop micromobility infrastructures (e.g. Eric Gobiet's Mobile Plug terminals, capable of hosting a variety of small electric vehicles), develop electric scooters that can be customized as required (e.g: Trottix), connect motorists (e.g. BlaBlaCar, Nice's initiative to equip its pavements with sensors that indicate free parking spaces to transmit information to smartphones of motorists looking for a place)....
3.1.4.3. Increase calls for tenders in major cities, strengthen partnerships with leading schools (engineering, business, etc.)
3.1.4.4. However, in Carole-Anne Rivière and Amandine Brugière's Bien Vieillir grâce au numérique, they analyze the necessary conditions for the proper use of new technologies by older people. Thus, they show that in the absence of a preventive and social approach to ageing, detection devices (teleassistance, location bracelets, sensors of all kinds) can lead, under the guise of risk management, to permanent surveillance, disempowerment, anxiety and dependence on equipment (leading to further isolation and confinement), as well as to an attack on individual dignity. It is therefore also a matter of looking at the long term before forcing older people to convert to all new transport applications....
3.2. Significant constraints
3.2.1. Public transport, always more expensive, always less profitable (Le Monde, 2013) by Olivier Razemon
3.2.1.1. Funding sources that are drying up ("transport payment" limited by employers and the MEDEF, limited budget of local authorities devoted to transport, global stagnation of the price of bus tickets over the last 20 years...)
3.2.1.2. Reasons given by the UTP for this revenue/expenditure ratio which is constantly deteriorating: urban sprawl, lack of transport flexibility (departmental buses running almost empty, unprofitable projects due to lack of demand such as the Avignon tramway)...
3.2.2. The power of habit
3.2.2.1. People are in their bubble, often in a hurry with the extension of transport times (35% of employees now have more than one hour of transport to reach their workplace, and residents of the Paris region have an average travel time to work of an average of 68 minutes according to the DARES study in 2015) or tired (decrease in average sleep time over the last thirty years)
3.2.2.2. Only 15% of those over 70 years old own a smartphone, 43% own a computer... It is therefore difficult to integrate them into the progress and evolutions of cities
3.2.3. The specificities of the French territory, difficult to overcome
3.2.3.1. The Ile-de-France region represents nearly 40% of French rail traffic, and in fact, the slightest localized incident can have immense consequences.
3.2.3.2. The quality in the metro is uneven due to the stops that the lines serve: there are good (1, 14 and 9) and bad (4, 12 and 13 totally saturated) lines.
3.2.3.3. Given the density of infrastructure in Ile-de-France, it is also difficult to keep it clean, despite the 80 million euros and the 1,000 employees RATP devotes to keeping trains and stations clean
3.2.3.4. The quality in the metro is uneven due to the stops that the lines serve: there are good (1, 14 and 9) and bad (4, 12 and 13 totally saturated) lines.
3.3. Improve existing public transport
3.3.1. By taking as an example existing cases, such as the one of Riesefeld (Fribourg-en Brisgau, Germany), developed in the Revue Géographique de l'Est (Hassina Imerzoukene Driad, Philippe Hamman et Tim Freytag)
3.3.1.1. The car is only the third most popular modal choice for older people in Rieselfeld: there is a clear preference for public transport (90%), followed by walking (77%) or cycling (60% of respondents use it).
3.3.1.2. Moderate car use in Rieselfeld is correlated with the existence of close and accessible structures (even in wheelchairs or walkers), the city's urban policy (restriction of car use, quality public transport or alternative transport), tramway) and a good service (stops close to each other with a neighbourhood organisation plan that recommended a maximum distance of 400 m between a tram stop and a house, reasonable shuttle frequency with a waiting time of about 7 minutes during the week...).
3.3.2. By developing economical advantages
3.3.2.1. By continuing to promote different existing forms of support for the transport of older people: a transport card providing free public transport, a card giving access to reduced fares, a transport network dedicated to the transport of older people and people with disabilities.
3.3.2.2. The Figaro ("Aide aux transports des personnes âgées") suggest that numerous actors could contribute to the support of transport for the elderly: local authorities (for the establishment of a transport network dedicated to the elderly and disabled, in accordance with the powers conferred since the decentralisation laws of 1982 and 1983), the General Council (extra-legal social assistance to offer transport passes to the elderly granting discounts in public transport), personal assistance services, companies or associations (e. g. accompaniment in public transport)
3.3.3. By creating more social links between citizens
3.3.3.1. Encourage citizen initiatives to improve the public transit experience, such as Les Ptits Cafés du Métro (which has been offering free drinks (coffee, fruit juices) to travellers since October 2015 every Monday morning)
3.3.3.2. Take advantage of citizen initiatives to help and share. For example, replacement of static timetables with lively updated public transport information service could be done with deployment of a vehicle tracking infrastructure (GPS sensors, back-end informatics systems...) or by exploiting the power of the crowd via participatory sensing or mobile crowd-sensing to collect real-time tracking data (cf. Crowdsending Based Public Transport Information Service in Smart Cities, Karoly Farkas, Gabor Feher, Andras Bencźur, and Csaba Sidlo)
3.3.3.3. Rely on start-ups to break the paradoxical ostracism of public transport, such as O'WAY (an application that makes it possible to search for people making the same journey and offer them to make the journey together), cultural buses (e.g. Bibliobus)...
3.3.4. By becoming more connected, more disruptive
3.3.4.1. The current multiplication of connected objects offers cities and transport operators huge databases that provide a pool of solutions for urban mobility.
3.3.4.2. Elon Musk in particular seems to be on all fronts: The Boring Company, Space X, Hyperloop... He wants to eliminate traffic jams thanks to a system of underground tunnels (enough to connect Los Angeles to the Westwood district in 6 minutes instead of the usual 30), create a kind of metro in much faster at 1200 kilometres per hour (Hyperloop)... It is necessary to attract the elderly through safe, efficient and clean innovation.