CONFERENCE PAVILION. Tadao Ando, 1993
by xiaonan Li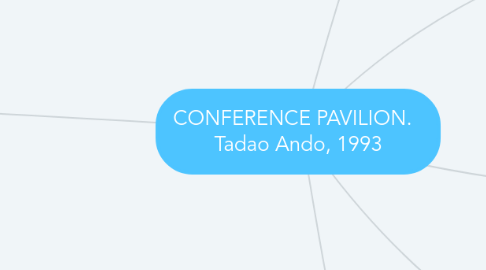 1. HOW?
1.1. Latitude/Longitude: 47.60107, 7.62007
1.2. Vitra Conference Pavilion was the first building for Tadao Ando outside Japan. The calm and restrained structure encompasses an assortment of conference rooms. It is characterized by a highly ordered spatial articulation with a large part of its volume concealed below grade. Ando's characteristic in his architecture is the religious element that the space create, that is why in Vitra Conference Pavilion the footpath leading to the pavilion has a significant association with meditation paths in the gardens of Japanese monasteries. Because cherry trees are of great traditional importance in Japan, Ando sought to preserve as many as possible. Only three cherry trees had to be felled in order to make room for the building.
2. WHERE IS IT?
2.1. Charles-Eames-Straße 2, 79576 Weil am Rhein, Charles-Eames-Straße 2, 79576 Weil am Rhein, GERMANY
3. WHO'S THE ARCHITECT?
3.1. Tadao Ando, born 13 September 1941He is a Japanese self-taught architect whose approach to architecture and landscape was categorized by architectural historian Francesco Dal Co as "critical regionalism". He is the winner of the 1995 Pritzker Prize.
3.2. Ando was raised in Japan where the religion and style of life strongly influenced his architecture and design. Ando's architectural style is said to create a "haiku" effect, emphasizing nothingness and empty space to represent the beauty of simplicity. He favors designing complex spatial circulation while maintaining the appearance of simplicity. A self-taught architect, he keeps his Japanese culture and language in mind while he travels around Europe for research.
4. HOW MANY ?
4.1. ROOM1
4.1.1. 70 m² Capacity: 60 Furnishing/ comments: Standard furnishing in a U-shape, flexible arrangement
4.1.1.1. room1
4.2. ROOM2
4.2.1. Room 2 (36 m²) Capacity: 20 Furnishing/ comments: Block seating
4.2.1.1. room2
4.3. ROOM3
4.3.1. Room 3 (23 m²) Capacity: 9 Furnishing/ comments: Round table
4.3.1.1. room3
4.4. ROOM4
4.4.1. Room 4 (23 m²) Capacity: 6 Furnishing/ comments: Lounge, three-seat sofas facing each other
4.4.1.1. room4
4.5. ROOM5
4.5.1. Room 5 (23 m²) Capacity: 9 Furnishing/ comments: Trapezoid-shaped table
4.5.1.1. room5
4.6. LOUNGE
4.6.1. Lounge (47 m²) Capacity: 36 Furnishing/ comments: Bistro seating
4.6.1.1. lounge
5. WHY?
5.1. Vitra campus was destroied by a fire accident,after that they renew the whole campus with different architects in different styles.
6. WHAT FOR?
6.1. Single rooms can be booked for small to medium-sized conferences. The entire Conference Pavilion is available for workshops. Each room receives sufficient sunlight and is equipped with wireless presentation technology, a flip chart and WIFI.