Indigenous situation in Colombia
by Daniela Jaramillo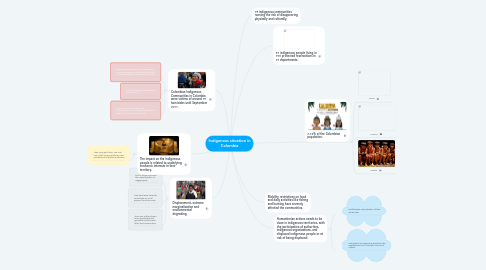 1. 87 indigenous people living in 700 protected reservations in 27 departments.
2. 2.74% of the Colombian population.
2.1. Ticuna
2.2. Cocama
2.3. Huitoto
3. 35 indigenous communities running the risk of disappearing physically and culturally.
4. Colombian Indigenous Communities in Colombia were victims of around 70 homicides until September 2011.
4.1. Because of armed conflict, the indigenous people are moving to Colombian cities with very few possibilities returning to their lands.
4.2. Forced sedentary processes and confinement.
4.3. Forced recruitment of their sons and daughters, sexual violence against their women and girls and lack of food.
5. The impact on the indigenous people is related to underlying economic interests in their territory.
5.1. They have gold, silver, coal and iron-nickel mines and african palm plantations and biofuel production.
6. Displacement, extreme marginalization and environmental degrading.
6.1. Due to illegal crops and the implementation of megaprojects.
6.2. They have been forced to concentrate on small pieces of land to survive.
6.3. Their own cultures haven been jeopardized and generated conflicts with other local communities.
7. Humanitarian actions needs to be done in indigenous territories, with the participation of authorities, indigenous organizations, and displaced indigenous people or at risk of being displaced.
7.1. Revitalization and protection of their sacred sites.
7.2. Participation of indigenous peoples in the Departmental and Municipal Councils of Culture.
8. Mobility restrictions on food and daily activities like fishing and hunting have severely affected the communities.