Visualisation of the debate on Brexit
by Maeve McTaggart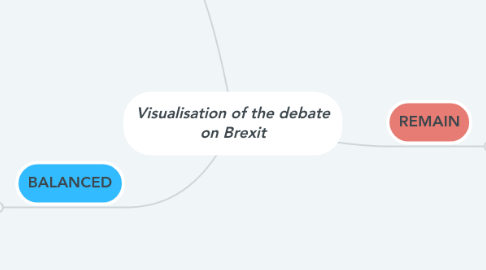 1. LEAVE
1.1. PRO-CONSERVATIVE
1.1.1. 2019: 'Here's why Foster MUST back Boris Johnson's deal', The Daily Mail
2. REMAIN
2.1. PRO-LIB DEM
2.1.1. 2019: 'Why people should vote Lib Dem for reasons beyond Brexit', NickTyrone.com, Nick Tyrone
2.2. ANTI-LABOUR
2.2.1. 2019: 'Jeremy Corbyn will never convince the British people he can get Brexit sorted', The Telegraph, Asa Bennet
2.2.2. 2019: 'Brexit: Remainers should beat a tactical retreat and allow UK to leave', The Irish Times, Ruadhán Mac Cormaic
2.3. ACADEMIC/SCHOLARLY
2.3.1. 2016: 'Why Brexit? The Toxic Mix of Immigration and Austerity', Population and Development Review, Stuart Gietel-Basten
2.4. PRO-LABOUR
3. BALANCED
3.1. 2019: 'Brexit: EU and UK reach deal but DUP refuses support', BBC News
3.2. 2019: "From deal to delay: what happened with Brexit in October?', EuroNews, Alasdair Sandford.
3.3. 2019: 'Brexit: Labour to back rebel Tory bid to force Johnson to demand an extension', The Guardian, Andrew Sparrow
3.4. 2019: 'EU's Tusk says he will recommend Brexit extension to avoid no-deal', RTÉ.
3.5. 2019: 'EU keeps UK waiting on Brexit delay, Johnson gears for an election', Reuters, John Chalmers, Jan Strupczewski.
3.6. 2019: 'EU 'sorry' to see UK leave as leaders agree on Brexit deal', DW