Lab 4 Feb. 6/8
by
Steve Koch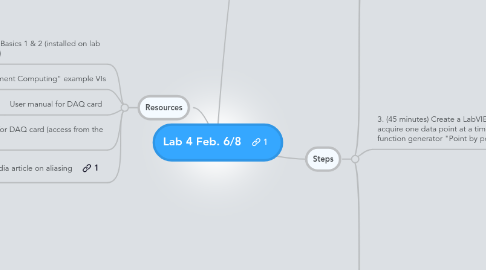 0.0
stars - reviews range from
0
to
5
Resources
LabVIEW Basics 1 & 2 (installed on lab machines)
"Measurement Computing" example VIs
User manual for DAQ card
Online Help for DAQ card (access from the Start menu)
Goals
Improve LabVIEW skills
Learn a bit about data acquisition (DAQ)
Solidify git/github skills
Steps
1. (20 minutes) Fork github project for lab 3 and clone the repository to a suitable place on your local lab machine, using your own account and gitbash.
2. (15 minutes) Use "Measurement Computing->InstaCal" to verify your board is working and figure out the board number
3. (45 minutes) Create a LabVIEW VI that will acquire one data point at a time from the function generator "Point by point acquisition"
4. (1 hour) What if you want to acquire higher frequency waves?
5. Homework