IDENTITY - Abiola Olojo, woman of high integrity.
by Ayodeji Olojo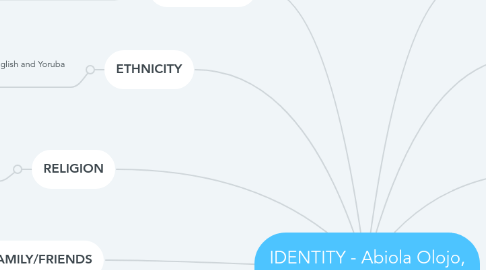 1. WORK PRINCIPLE
1.1. As a personal support worker, I would embrace and support my clients individuality
2. VALUES
2.1. See the future,
2.2. Engage and develop others
2.3. Reinvent continuously
2.4. Value results and relationships
2.5. Embody the values
3. RELIGION
3.1. Christian Pentecostal
4. APPEARANCE
4.1. Brown Skinned, average height, black hair
5. WORK/HOBBIES
5.1. Work - Personal Support Worker
5.2. Hobbies - Singing, Dancing, Partying and Watching TV
6. INTERESTS
6.1. God, Movies, Traveling, Family and Friends.
7. FAMILY/FRIENDS
7.1. Family - Husband, Children, Siblings
7.2. Friends - Alhaja, Biola, Demola
8. INDIVIDUALITY
8.1. I am guided by the principles of Love, Honesty, Truth and Respect. Without these in your life you have nothing.
8.2. I maintain my uniqueness and individuality by staying true to my core principles and applying them in every facet of my life and work. I see my uniqueness as an asset that greatly benefits my clients and everyone around me.
9. ETHNICITY
9.1. Nigerian, I speak English and Yoruba languages.